EXCLUSIVE: Is A Panic! & Twenty One Pilots Collab On The Way?
22 November 2016, 12:41 | Updated: 8 May 2017, 17:09
We talk to Brendon about his love for Tyler and Josh - plus we give him his very own Josh Dun Hun card!
Panic! At The Disco's Brendon Urie has told PopBuzz about his love for Twenty One Pilots, hoping for a collaboration and joint tour in the future.
In our exclusive interview for this week's PopBuzz Podcast, Brendon talked about his love for Tyler and Josh and his admiration of the band in general.
They're both so talented. Tyler's such a phenomenal writer. And they're just sweet people. If we did nothing musically together again ever, they're just really good friends. They're just nice to be around ya know? There some of those people that, you hang out with them and you kind of adopt some of their mannerisms because you're like "oh that's kinda cool". They're nice, just nice people. They're decent people.

Brendon Urie, PopBuzz
Best frens forever.
In fact Brendon is such a good friend, we even presented him with his very own Josh Dun Hun Card!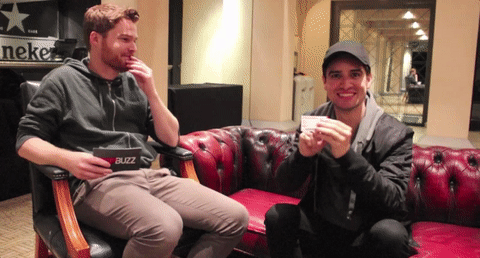 PopBuzz
Don't worry Tyler, we have one for you too - come collect it whenever you like!
Check out Brendon talking TØP in the video clip above.

___ ___ ___ ___ ___
Catch Brendon Urie on the #PopBuzzPodcast right now. Subscribe for free on iTunes to get new episodes sent straight to your phone every Wednesday.