Brendon Urie Forced To Cancel 'Kinky Boots' Stage Door Signings After Fans Get Too Intense
31 July 2017, 11:15 | Updated: 31 July 2017, 17:01
Brendon tweeted that at recent performances, fans just "scream in my face and don't listen" as the Panic! At The Disco star enters his final week on Broadway.
Brendon Urie will no longer be meeting fans at the stage door following performances of Kinky Boots on Broadway.
The Panic! At The Disco frontman has one week remaining of his summer run in the hit musical but has announced in a tweet that the post-show meet and greets, a Broadway tradition of sorts, have just become too much in recent days:
Hey I love y'all. But I can't keep coming out to stage door when you scream in my face and don't listen. So I'm done hope to see y'all later

— Brendon Urie (@brendonurie) July 30, 2017
Brendon's road manager Zach Hall also took to social media to explain the situation further after video footage of Brendon urging fans to stop screaming at him and calm down went viral: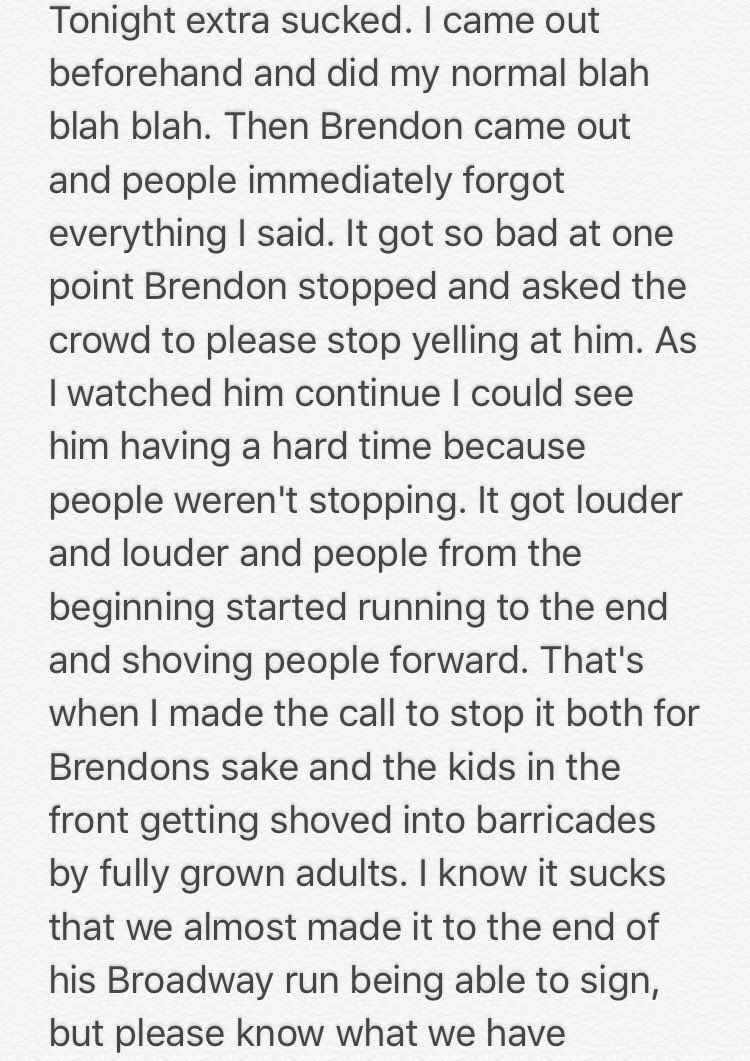 Twitter: @ZackCloudHall

Twitter: @ZackCloudHall
There had also been previous reports of fans leaving the show during the bows section in order to get to the barrier as well as traffic being stopped in the street due to the hordes of fans waiting for to get their Playbills signed.
Zach appeared at the stage door yesterday (July 30th) to explain the situation to any fans who may have missed the tweet:
Zack's message today regarding Brendon and stage door pic.twitter.com/SxyGguwnZ0

— Panic! Updating (@panicupdating) July 30, 2017
Fans have been overwhelmingly supportive of Brendon and apologetic on behalf of the overexcited minority who couldn't just, ya know, chill the f*ck out:
It sucks you had to do this @ZackCloudHall, but for @brendonurie 's sake I understand. I hope things get better. You are awesome

— Olive (@laureneliza69) July 30, 2017
im surprised this didn't happen sooner, earlier this month a girl in front of me @ stage door screamed "HAVE MY BABIES" right in ur face :/

— molly misses atl (@iidkhbtfm) July 30, 2017
playbill signed and appreciate and show my respect for the fact she did an amazing show, brendon shouldn't be any different :/

— blaise |pinned !! (@Blazeception) July 30, 2017
i wanna give brendon a big hug and thank him for putting up with this stage door madness for so long idk how he does it @brendonurie

— alexis (@beebosbooty) July 30, 2017
Sadly, this isn't the first time a certain type of Panic! "fan" has been overzealous lately; earlier this year, Brendon was mobbed at an airport in Australia, suffering an anxiety attack as he arrived for some tour dates while he and his wife Sarah were also forced to move house in LA after constant harrassment.
It should be obvious already and the majority of the fans seem to have got the message but, just for the people in the back, let's say it one more time: nobody deserves this kind of treatment, no matter what their level of fame or how big a "fan" you may be of their work. Show some respect.
On a happier note, Brendon will wrap up his run in Kinky Boots at the end of this week before returning to work on the next Panic! At The Disco album. Check out our chat with him from before he started his performances: