WATCH: Brendon Urie Crashes "Lip Sync Battle" For A Classic Panic! Performance
22 December 2016, 09:21 | Updated: 8 May 2017, 17:09
The Panic! frontman helps Cassadee Pope run through one of his biggest hits...
Panic! frontman, famous forehead owner and noted Cookie Monster fan Brendon Urie made a TV cameo last night, appearing on a festive edition of Lip Sync Battle.
Cassadee Pope, the former The Voice contestant, was competing for the ceremonial winner's belt and chose Panic!'s classic 'I Write Sins Not Tragedies' as her big show number.
And you'll never guess who burst through a goddamn door half way through...
Spike TV
Excellent shimmy.
It's a fun clip, although it is a bit weird to see Brendon lip syncing to his own song if we're honest.
Cassadee seems delighted though!
What?!!?! @brendonurie graced us all with his presence during my Lip Sync battle. Thank you, kind sir. #LipSyncBattle

— Cassadee Pope (@CassadeePope) December 22, 2016
Lovely.
But, in the interview with LL Cool J, he makes sure to plug the band's upcoming tour which will be "sweaty and naked" apparently.
Chrissy Teigen has the appropriate reaction to that one...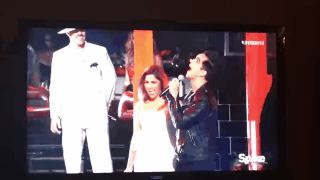 Spike TV
You are all of us Chrissy.
Check out Brendon's performance on Lip Sync Battle below:
___ ___ ___ ___ ___
YOU voted and results are in! Who won the Album of the Year at the PopBuzz Fan Awards? Listen to the #PopBuzzPodcast right here or subscribe for free on iTunes to get new episodes sent straight to your phone every Wednesday.