WATCH: Brendon Urie Stands Up For LGBT Rights In the Best Way Possible
27 May 2016, 11:45 | Updated: 8 May 2017, 17:09
"Thinking of cancelling in North Carolina? Why the f*ck would I do that?".
Panic! frontman Brendon Urie took to his favourite app Periscope again yesterday (May 27th) to chat to fans live from his dressing room in Amsterdam.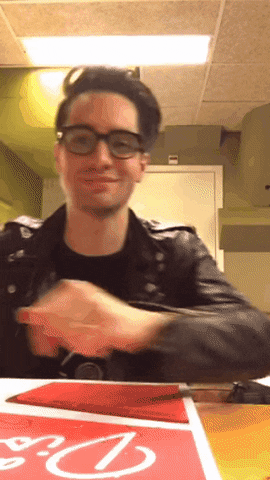 Periscope
He was busy signing posters but still took the time to answer some questions - including one particularly topical query about their upcoming show in North Carolina.
ICYMI North Carolina is currently under a great deal of criticism for imposing new laws which many see as being oppressive towards LGBT individuals. The most talked-about aspect revolves around bathrooms, the law blocking transgender people from using the bathrooms that match their gender identity.
Many musicians have since cancelled their concerts in the state including Pearl Jam, Maroon 5 and a joint show by Nick Jonas and Demi Lovato.
But, when a fan asked Brendon if Panic would follow suit and pull their North Carolina show, he had a different response.
So there ya go - a brave move in support of the LGBT community and his fans. Nice job!
Here's that quote in full:
Thinking of cancelling in North Carolina? Why the f*ck would I do that? I'm gonna pull my d*ck out and them I'm gonna make out with a guy. 'Cos I'm gonna fight for gay rights I'm not gonna f*cking run from it, I'll tell you that much right now. Alright, how 'bout that? Even if they try to force me...I'll get a rainbow guitar, acoustic, and I'll just sing in the streets about how awesome it is to be gay and straight and bi and pan and whatever the f*ck 'cos it doesn't matter, no what I'm saying? Sounds right, real aggressive (laughs).

Brendon Urie
Looks like Brendon certainly ain't going to hide away from this issue. Will he do all that he says? Will a rainbow guitar make an appearance? Will he really get his d*ck out? Or kiss a guy???
Panic! play venues in North Carolina on June 20th and 21st alongside Weezer. Keep an eye out.
Watch his full periscope session here: