Brendon Urie Shuts Down Online Trolls In The Best Way
2 August 2016, 12:07 | Updated: 8 May 2017, 17:09
After Sarah Urie's instagram got some negative messages, Brendon told these "fans" where to go...
Panic! frontman Brendon Urie took to Twitter this week to address some abusive trolls he had come across on the internet.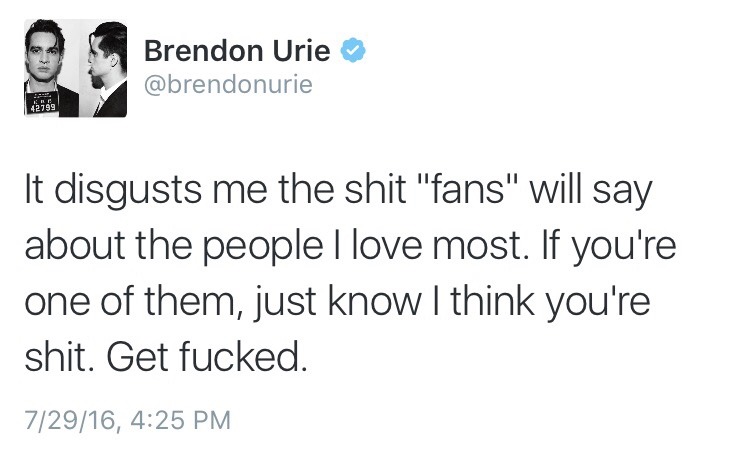 A lot of fans were pretty confused though - just what had annoyed Brendon so much that he had to tweet about it?
The answer lies on instagram as Brendon's wife, Sarah Urie, has been repeatedly subjected to abuse, sarcastic comments and general nonsense from certain, unimpressive areas of the Panic! fandom.
marchingclocks.tumblr.com
The "fans" in question have been making use of the bee emoji, spamming her Instagram account with mean messages, as Sarah herself explains.
In response, many tumblr users have begun posting support for Sarah alongside their own takedown of the trolls out there.
Yesterday, we reported on Instagram's new feature which will allow users to moderate comments underneath their photos. It is sad that we need this kind of protection on a social platform that is, more than most, supposed to be about fun, relying on the power of images over words. Perhaps in the future, fans will think before they type and remember there is a person on the other side of that account.
What do you guys think? Let us know below.