WATCH: Brendon Urie Takes On Selena Gomez In Karaoke Roulette And It's LIT
9 September 2016, 11:12 | Updated: 8 May 2017, 17:09
Brendon tackles some HUGE songs in a karaoke game like no other...
Panic! At The Disco frontman and noted hater of shirts Brendon Urie has been touring around Asia and has even made time for a little karaoke action.
Brendon stopped by MTV Asia for an intense game of karaoke roulette, taking on whatever hit song he pulled out of the hat, throwing in whatever extra insane high notes or riffs he fancies.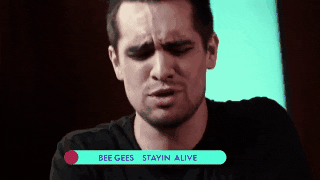 YouTube, MTV Asia
So, if you've ever wondered what a Panic! version of Selena Gomez, the Bee Gees or AC/DC would sound like, now is your chance to find out!
Panic! will return to the UK this November for a sold out arena tour in support of fifth album Death Of A Bachelor.
Watch Brendon take on Karaoke Roulette below: