EXCLUSIVE: Brendon Urie Reveals Tracklist And Lyrics For Next Panic! Album
21 November 2016, 14:53 | Updated: 8 May 2017, 17:09
Brendon tells us some of his new ideas for Panic! track titles and lyrics in our exclusive interview...
Brendon Urie has revealed some of the current track titles for the forthcoming sixth album from Panic! At The Disco.
We chatted exclusively for the PopBuzz Podcast and he told us that he is already hard at work on the follow up to "Death Of A Bachelor".
I've been writing a lot actually. I kinda just write here and there on tour especially. If I don't get a full song idea out, it's usually a lyric. If somebody mentions like a funny pun or a stupid thing, I'll just write it down in my phone and then I'll go back to it maybe a week later and try to write some lyrics based around that idea.

Brendon Urie, PopBuzz
Hopefully we won't have to wait too much longer for new Panic! music then.
But what are some of the ideas on his phone?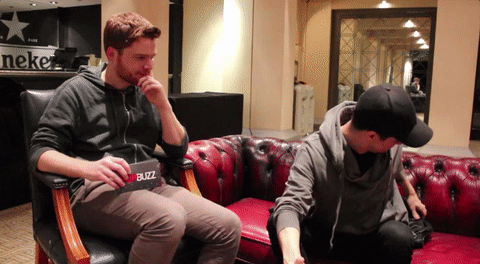 PopBuzz
Well Brendon was kind enough to raid through his notes section and give us a few exclusive lyric samples and song titles he is lining up for the new record.
Click the video above to check out Brendon's ideas for the new Panic! album.

___ ___ ___ ___ ___
Catch Brendon Urie on the #PopBuzzPodcast right now. Subscribe for free on iTunes to get new episodes sent straight to your phone every Wednesday.