Brendon Urie quits Panic! At The Disco and confirms the band is no more
24 January 2023, 15:48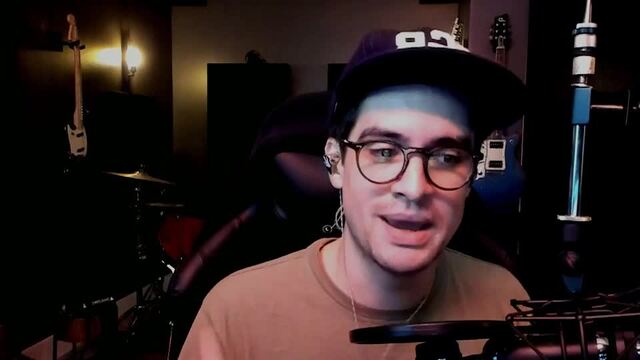 Brendon Urie apologises for using a transphobic slur
Panic! At The Disco is officially over after 19 years.
Brendon Urie has confirmed that Panic! At The Disco is "no more", and that he and his wife Sarah Urie are expecting a baby.
Ever since Panic! At The Disco formed in 2004, the band has gone through multiple lineup changes. The group started out as a four-piece with Brendon Urie, Ryan Ross, Brent Wilson and Spencer Smith. However, by 2016, Ryan, Brent, Spencer (and their replacements, Jon Walker and Dallon Weekes) had all left the group and Panic! became a solo project for Brendon.
Now, Brendon has announced that Panic! At The Disco is over and he will be taking time to focus on being with his family.
Why has Brendon Urie left Panic! At The Disco?
Taking to Instagram today (Jan 24), Brendon wrote: "We've been trying to keep it to ourselves, though some of you may have heard... Sarah and I are expecting a baby very soon! The prospect of being a father and getting to watch my wife become a mother is both humbling and exciting. I look forward to this next adventure."
Brendon then explained that his impending fatherhood has led him to decide to put an end to Panic!. He said: "That said, I am going to bring this chapter of my life to an end and put my focus and energy on my family, and with that Panic! At The Disco will be no more."
Finally, Brendon thanked all of his fans by writing: "Thank you for all your immense support over the years. I've sat here trying to come up with the perfect way to say this and I truly can't put into words how much you all mean to us."
He ended by saying: "I love you. I appreciate you. Thank you for existing."
In recent years, Brendon has been at the centre of numerous controversies. He first faced backlash for past transphobic and racist remarks. He then apologised for them. Brendon also came under fire after being silent when multiple fans accused his longterm security guard Zack Hall of sexual assault. It wasn't until months later that he made a statement and fired Zack.
In February, Brendon will start the final leg of Panic!'s Viva Las Vengeance Tour in Europe. The final gig is on March 10th in Manchester.
Margot Robbie & Diego Calva Pick Their Own Interview Questions | Babylon | PopBuzz Meets