Wait... Is Brendon Urie Gonna Be In "Stranger Things" Season 2?
2 November 2016, 15:59 | Updated: 8 May 2017, 17:09
After that "LA Devotee" video, is Brendon headed to the upside down?
Could Panic! At The Disco frontman Brendon Urie be bringing his famous forehead to the upside down with a role in season 2 of Stranger Things?
Well, no. Probably not tbh. But he is up for it!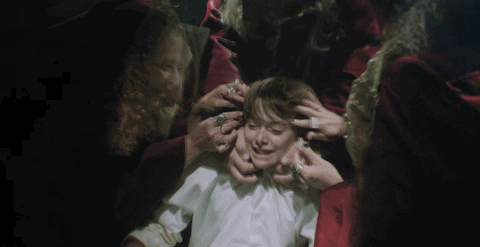 Giphy
Brendon chatted to Billboard about the recent cult-themed music video for "LA Devotee", starring Noah Schnapp aka Will from Stranger Things. Turns out it was Noah who requested to be in the video which thrilled Brendon, a big fan of the show.
Noah Schnapp hit me up and emailed us and was like hey I'd love to do something if you guys are working on any thing for Panic! and we were like "Perfect - you wanna be in this video?" and he said yeah. it worked out. I guess serendipity kicked in.

Brendon Urie, Billboard
But the real question is, will Beebo make it into season 2 of the show?
Well, turns out he might have already been in it...
Well most people don't know but I'm actually the demogorgon so, there ya go!

Brendon Urie, Billboard
Tbf he's not actually wrong...
Just take a look at this piece of video evidence from the Netflix set:
Wonder why they cut that scene...
Seriously though Brendon - have you enquired about any kind of future role?
I haven't said anything at all yet but now that you mention it it wouldn't be a bad idea. I mean I would love to. I love that show so that would be amazing.

Brendon Urie, Billboard
Fingers crossed for that one then!
Panic! At The Disco will tour the UK throughout November including two nights at London's Alexandra Palace.
___ ___ ___ ___ ___
Listen to this week's #PopBuzzPodcast featuring My Dad Wrote A Porno's Jamie Morton right here on Soundcloud, or download for free from iTunes to get new episodes sent straight to your phone every Wednesday. You can also find us on AudioBoom or TuneIn - if that's what you're into.