Brendon Urie Stalked His Fave Band Until They Toured With Him
4 August 2016, 11:25 | Updated: 8 May 2017, 17:09
How Weezer fanboy Brendon convinced the band to come on the road with him this summer.
This week Panic! At The Disco will wrap up their epic summer tour across the US, co-headlining with the legendary Weezer.
And it turns out the whole experience has been a dream come true with Brendon Urie, having begged Weezer to tour with them for years.
Ahead of the tour's final shows in California, Brendon chatted to the OC Register about how the collaboration came about.
As a fan boy, I had mentioned it to (Weezer frontman) Rivers Cuomo a few times. I'd be like, 'Hey man, it would be cool if we toured.' Then I'd just walk away. It was all about planting that seed, but in my mind I felt like Rivers would be like, 'Yeah, I bet it would be cool ... for you.

Brendon Urie
Weezer worked on their most recent self-titled record with producer Jake Sinclair who also collaborated with Brendon on Death Of A Bachelor. Rivers is also credited as a co-writer on the huge single "Victorious".
When I found out they were on my same management team, I was like, 'I have to make this happen...I told management that I would be willing to be the first of five acts to go on just to tour with Weezer because it would be amazing and the fans would love it. When it worked out, I was like, 'Oh my God.' I'm nervous about it and it's weird, but I'm kind of freaking out and that's exciting.

Brendon Urie
Aww, bless him!
Although, despite getting to work with his heroes, Brendon insists that he is keeping it strictly professional.
I'm not a stalker or anything. I think I'm just having my 'Wayne's World' moment right now. I'm definitely not worthy.

Brendon Urie
Sure you're not Brendon...
Panic! At The Disco tour the UK this November.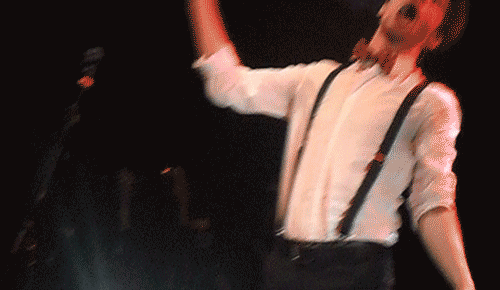 Wiffle Gif