Brendon Urie Has An Unexpected Fan From A 90s Boyband
16 February 2016, 11:56 | Updated: 8 May 2017, 17:09
Turns out they have a lot in common.
Angel-loving former Take That member and "cheeky" UK pop prince Robbie Williams took to Twitter last week to reveal some rather interesting new listening habits.
Just heard 'death of a bachelor' by panic at the disco and realized what i should sound like

— Robbie Williams (@robbiewilliams) February 12, 2016
Yes, Robbie is a fan of Brendon Urie's latest opus. It's unclear whether he's referring to the whole album or just the title track (probably the latter) but either way, Pete Wentz was very impressed.
Robbie knows what's up https://t.co/LiKcvfdOpu

— t(-.-t) (@petewentz) February 13, 2016
Getting that pop punk street cred Rob!
For those of you unfamiliar (aka US readers) with Robbie's career, it may seem odd to place him alongside Panic! given his boyband past and penchant for all things pop. However, for those of us who have grown up with him, it should come as no surprise that Robbie is digging on Brendon's latest release. In fact, they have a lot more in common than you might think...
They both model themselves on Freddie Mercury.
Both having covered "Bohemian Rhapsody" in their live shows.
They both enjoy removing their shirts.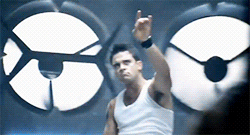 REXILLA.TUMBLR.COM
You just can't stop them.
FBR
And they share a love for Sinatra.
Rob has released two pun-heavy Swing-themed albums in the last few years (Swing When You're Winning and Swings Both Ways) thats sold incredibly well. "Death Of A Bachelor" is thematically similar to both of those with elements of Williams' other passion (wonky 80s synth pop) worked into the backing track.
Basically take this...
...add in a little of this...
...and you get this.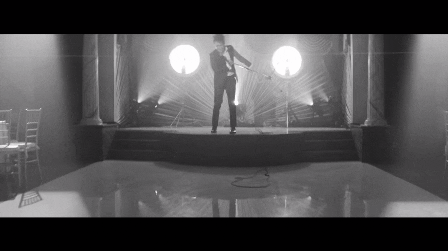 FBR/YouTube
Lovely.
Add to that their shared love of LA, their openly honest and confessional lyrical style, their taste for the theatrical on stage and the constant lineup changes of their respective bands and they are basically the same person!
So, what, if anything, does this all mean? Will Rob's next album go down this route? Will Pete push for a collaboration? Hey, if Brendon can sing with Sisqo, there is no end to where his genre-hopping might take him. We wait patiently to see what comes next.
What do you guys think? Time for them to form a new Rat Pack? Let us know!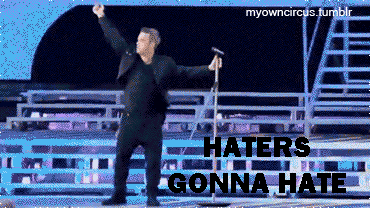 TUMBLR.COM