Watch Panic! At The Disco Perform Crazy Live Mash-Up With Sisqo
16 February 2016, 09:36 | Updated: 8 May 2017, 17:09
"That thong th thong thong thong"
Jimmy Kimmel's Mash Up Monday really hit a home run this week with perhaps the finest pun-based band name they have ever delivered. Yep, its time for Panic! At The Sisqo.
Full of beats to make your booty go "da na da na" and enough R'n'B riffing to fill a Dreamgirls revival, Brendon and the Dragon compliment each other in oddly perfect fashion. Next time, we would like this supergroup to deliver a cover of "September" with the full dance routine from the climax of teen classic Get Over It!. Don't let us down guys!
Watch the pairing take on "The Thong Song" below:
What do you guys think? Let us know!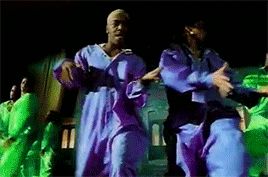 LOVEMYACOM.TUMBLR.COM