9 Times Your Fave Bands Were Answers On TV Game Shows
10 January 2017, 16:21 | Updated: 8 May 2017, 17:09
Did these TV contestants know the answers to The 1975, Panic! and Blink 182 questions?
We've all been there - you are just innocently sat on the sofa watching some daytime TV when, suddenly, out of nowhere, the quiz show announcer mentions your fave artist!
You shout the answer and swear at the screen when the IDIOT contestant gets it wrong before realising that the rest of the round is about chemical symbols and go back to sleep. Still, it's always an exciting sight so we rounded up a few times we've spotted our faves as answers on our favourite game shows...
1) The 1975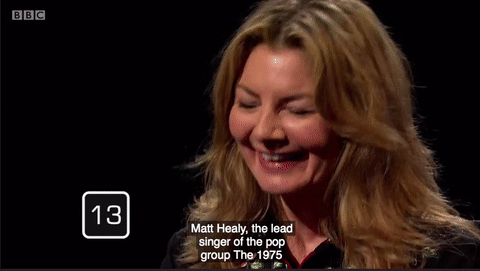 BBC
Comedian Jo Caulfield came unstuck on a recent episode of Celebrity Mastermind, although, to be fair, maybe she was just thrown by seeing Matty refereed to as "Matt". Grounds for a recount we reckon.
2) Fall Out Boy
In the US, you aren't really famous unless you've appeared as an answer on Jeopardy and while this is basically just a Simpsons question, we reckon Pete Wentz would have been all over this moment. The man is on Hollywood Squares now for gods sake - he loves a game show!
3) Blink 182
BBC
Easily the UK's finest teatime TV quiz, the aim of Pointless is to find the least popular answer in the category after a survey of 100 people. So while it is sort of an honour to be a pointless answer, it does mean Hoppus was the least famous Mark on the list. Oh well...
4) Green Day
You tried, but you just didn't get there quickly enough Andy! Nice shout out for Mike too.
5) The Killers
Jeopardy
Is this an actual question or a new police interrogation technique to find out just what happened to Jenny? It's just crazy enough to work...
6) Lana Del Rey
Jeopardy
Your face is "rather morbid and paradoxical". BOOM!
7) Paramore
From last night's episode of @Jeopardy (via @ParamoreLAT) pic.twitter.com/TofuL17Bfp

— Paramore (@paramore) July 30, 2014
So proud that they actually tweeted about it. Bless them.
8) Coachella Acts
This is actually quite a tricky category although the showmakers do lose some points from us for not using a photo of Skrillex during his emo phase.
9) My Chemical Romance and Panic! At The Disco
Pop? Honey, no...
Seen your fave pop up on a gameshow? Let us know below.
___ ___ ___ ___ ___
From Brendon Urie to The Vamps, here are the best bits from the #PopBuzzPodcast in 2016. Listen right here or subscribe for free on iTunes to get new episodes sent straight to your phone every Wednesday.