9 Times Hayley Williams Was Basically Eleven From Stranger Things
20 October 2016, 12:49 | Updated: 8 May 2017, 17:09
You never see them in the same room at the same time do you...
We all thought Hayley Williams was hard at work on the upcoming fifth Paramore album. Turns out she's actually been holed up in a studio in Nashville for a very different reason - she's hiding from the demagorgon!
A Paramore fan on Twitter pointed out the striking similarity between Hayley Williams and Eleven from Stranger Things.
@yelyahwilliams you look like 'Eleven'pic.twitter.com/U4PpPBrONP

— Rojita(@KarlaReatiga) October 17, 2016
Pretty dead on tbh.
In fact, this ain't the first time Hayley has resembled everyone's favourite magical 1980s child/fashion icon. Let's review the evidence shall we?
1) They share a favourite food.
"@nerdypotterhead: @yelyahwilliams do you ever just wake up and think wow im hayley williams"
Honestly, I don't. Mostly think about waffles.

— hayley from Paramore (@yelyahwilliams) May 30, 2013
Waffles you say?
Stranger Things, Netflix
Sounds familiar...
2) They keep changing their hair.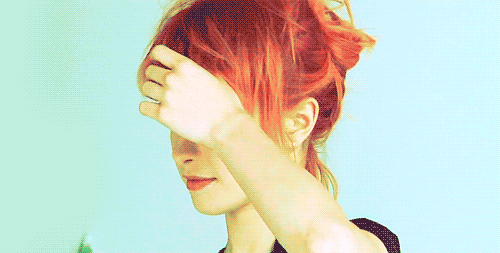 Giphy
Hayley even owns her own hair-dye company - perfect for making an instant disguise so she can't get caught by any shady government agencies...
3) They share a love of cycling!
Fueled By Ramen
Have we seen that bike somewhere before?
Yes. Yes we certainly have
Stranger Things, Netflix
This is getting scary!
4) They can both rock a denim jacket!
Fueled By Ramen
It was a strong look in the 1980s and it's a strong look now.
Stranger Things, Netflix
Can't deny it.
5) They are both big fans of the 1980s.
What. A. Tune!!!
6) They're both the "Mom" of their friendship group.
Fueled By Ramen
It's a tough job, but somebody has to control all these silly boys!
Stranger Things, Netflix
7) Diners are their favourite hang out spot!
Tbf, who doesn't love a good diner.
They're the best!
8) They've both been spotted at DisneyWorld.
Disney Everyday
But we've never seen them there together...
Had the most magical day with my wonderful family! Thanks @WaltDisneyWorldpic.twitter.com/wRnQqvBWkp

— Millie Bobby Brown (@milliebbrown) October 13, 2016
Coincidence? Or are they THE SAME PERSON?!?!
9) They both have MAD rap skills.
Hayley's got some serious rhymes.
And Eleven is a straight-up MONSTER!
Sick.
Hayley is Eleven. Eleven is Hayley. Deal. With. It
___ ___ ___ ___ ___
Listen to this week's #PopBuzzPodcast featuring the boys from The Vamps right here on Soundcloud, or download from iTunes, AudioBoom or TuneIn to catch up with all the previous episodes!