Paramore's Hayley Williams calls out NOFX's Fat Mike for allegedly making sexual comments about her
25 January 2023, 13:14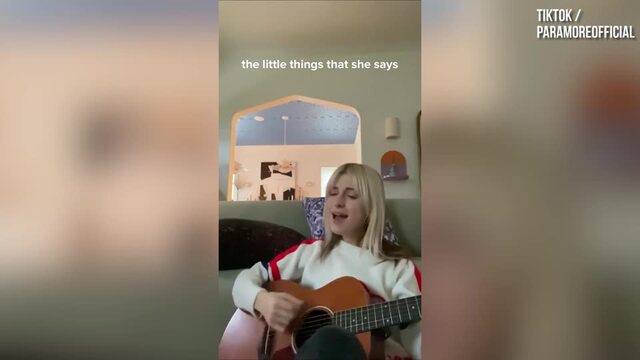 Hayley Williams relaunches her acoustic covers
Hayley Williams was just 19 years old when Fat Mike would allegedly make inappropriate remarks about her.
Hayley Williams has opened up about the dark side of pop-punk and called out NOFX's Fat Mike for allegedly sexualising her as a teenager.
Last year, Paramore headlined the highly anticipated When We Were Young festival. Harking back to some of the most iconic Warped Tour lineups, When We Were Young featured sets from the likes of Jimmy Eat World, My Chemical Romance and Avril Lavigne. It was a who's who of pop-punk legends and it brought together pop-punk fans from all over the world.
However, Paramore have now revealed that they had doubts about returning to that scene and Hayley's explained why.
READ MORE: Paramore condemn man for allegedly assaulting multiple girls at their show
Speaking to Billboard, Hayley said: "Everyone's just trying to remember better days, and I'm sitting there like, 'They weren't that much better'". During Paramore's When We Were Young set, Hayley delivered a passionate speech about how it was "really fucked up" that the pop-punk scene wasn't always a safe place for women, people of colour and queer people.
Reflecting on what she said at When We Were Young, Hayley told Billboard: "We don't want to be a nostalgia band. But I think what I felt was a mixture of vindication and also a lot of anger." She continued: "I was really surprised that I had so much anger well up in me because I was like, 'Wait a minute. They're treating us like a prize now'."
Hayley then explained that Paramore were looked down upon at the start of their career and alleged that other pop-punk artists would make sexual comments about her. Hayley said: "Fat Mike [of NOFX] used to tell people that I gave good rim jobs onstage when I was 19 years old. I do not think that that's punk. I don't think that's the essence of punk."
Hayley ended by saying: "I feel strongly that without young women, people of color and also the queer community, I just think we would still be where we were then."
Margot Robbie & Diego Calva Pick Their Own Interview Questions | Babylon | PopBuzz Meets