Paramore perform 'Misery Business' for first time in four years after refusing to play it
3 October 2022, 15:43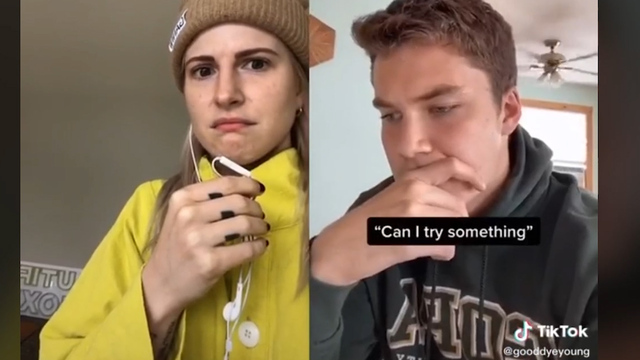 Hayley Williams reacts to viral TikTok to Paramore's 'All I Wanted'
'Misery Business' is officially back on Paramore's new tour and fans are living for it.
Paramore have officially begun playing 'Misery Business' live again after previously deciding to stop performing the hit song.
Back in 2018, Paramore announced that they would no longer perform 'Misery Business' live. During the band's final After Laughter concert in Nashville, Hayley Williams revealed: "Tonight we're playing this song for the last time for a very long time. This is a choice that we've made because we feel that we should. We feel like it's time to move away from it."
Despite being one of Paramore's biggest singles, 'Misery Business' has often been called it out for its slut shaming lyrics. The bridge sees Hayley sing, "Once a whore, you're nothing more. I'm sorry that'll never change," and in recent years, Hayley has distanced herself from it. Speaking to Track 7 in 2017, Hayley said she's "grown" since she wrote it.
Now, Paramore have surprised fans by bringing the song back as part of the setlist on their current autumn tour dates.
READ MORE: Paramore's Hayley Williams and Taylor York confirm they're dating
Yesterday (Oct 2), Paramore launched their Fall 2022 Tour in the US and the setlist includes everything from Paramore's new single 'This Is Why' and album deep cuts like 'Pool' to hits like 'Decode' and 'Ain't It Fun'. However, fans were most excited to learn that 'Misery Business' has returned from war and actually is the last song Paramore perform before their encore.
Announcing the return of the song, Hayley said: "Five minutes after I got cancelled after saying the word 'whore' in a song, all of TikTok decided it was ok. But I remember a time when we had a MySpace when we were still a really small band. We hadn't even put out this song and we started noticing that kids were calling themselves ParaWhores."
Hayley added: "I guess what I'm trying to say is, it's a word and if you're cool, you won't call a woman a whore because that's bullshit." She then said "fuck it" before launching into the song. Hayley also handed the mic to a fan to sing the bridge.
"Five minutes after I got cancelled after saying the word whore in a song, all of TikTok decided it was ok"

Misery Business is back. pic.twitter.com/MQJy79Btom

— PARAMORE ITALIA (@italiaparamore) October 3, 2022
Naturally, fans are losing it. One person tweeted: "PARAMORE DID MISERY BUSINESS WE ALL WENT INSANE. WE OUTTA RETIREMENT".
Another added: "i can't believe misery business is really back on the setlist after four entire years like we have witnessed history."
HAYLEY SAYING "FUCK IT"
BEFORE SINGING MISERY BUSINESS FOR THE FIRST TIME AT A PARAMORE SHOW IN FOUR YEARS

— issa phae | THIS IS WHY (@mizphantasm) October 3, 2022
PARAMORE HAS BROUGHT BACK MISERY BUSINESS INTO THEIR CONCERT SETLIST !!! THIS IS NOT A DRILL !!!

— mar THIS IS WHY (@chrrypm) October 3, 2022
A win for feminists who know that it is wrong to call people whores but also love 'Misery Business' unconditionally. We exist!
What do you think? Are you happy 'Misery Business' is back?
Drag Race UK's Just May Claps Back At Danny Beard's Shady Remarks | Drag Race Yearbook