Paramore Lineup Update: Zac Is Back (Sort Of)
5 July 2016, 12:08 | Updated: 8 May 2017, 17:09
Former drummer Zac Farro gives fans some details in a new interview...
Paramore continue to tease us from the studio with no firm details on the band's current lineup or when we can expect new music.
New photo of Hayley Williams and Zac Farro from Hayley's Snapchat pic.twitter.com/2CjGwBzpDv

— Paramore Updates (@PmoreUpdates) June 17, 2016
HOWEVER - former drummer Zac Farro has now confirmed that he is officially back within the Paramore fold. Kind of.
Zac spoke to Idobi to finally reveal his status within the band. And he almost made things clear.
They've asked me to play drums on their album, on their new album. So [Hayley] put it on their Instagram and put it on their website, and it's no joke that I'm back just playing drums for them on their album alongside with doing my HalfNoise stuff. That's it, and that's literally all it is right now. No one's really asked cause I've kind of deterred the question, but I'm doing HalfNoise – that's my band. They've asked me to drum, and it was like, 'Yeah, of course!' We've always been friends, and yeah, there was a little bit of weirdness cause I left the band for a few years, but all that stuff is not even there anymore and there's no hard feelings and it's just been rad and fun.

Zac Farro
Ok cool. BUT WHAT DOES THAT MEAN?!?!?!
Is Zac Farro back in the band or just session drumming? Will he be on tour with the new lineup? And who else is in the fold? WE NEED ANSWERS!!!!!
More info when/if we get it guys.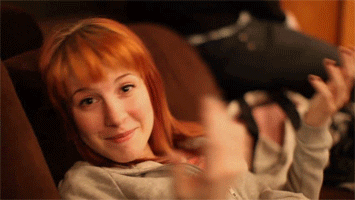 Wiffle Gif