Paramore's New Album Is Coming Soon & Here's Everything We Know
18 April 2017, 10:46 | Updated: 8 May 2017, 17:09
Hayley, Taylor and Zac have been hard at work for months so here is what to expect from the arrival of 5more.
UPDATE 19/04/17
Well, that was an eventful 24 hours wasn't it?
Anyway, the secret is out - Paramore's new album After Laughter will be released on May 12th followed by a full UK and European tour in June.
The tracklisting has also been unveiled and the whole thing is available for preorder on iTunes right now.
Here's the songs that made the final cut:
1) Hard Times
2) Rose-Colored Boy
3) Told You So
4) Forgiveness
5) Fake Happy
6) 26
7) Pool
8) Grudges
9) Caught In The Middle
10) Idle Worship
11) No Friend
12) Tell Me How
Oh, and they've even put out a new single and music video for good measure.
Did we mention it's an absolute banger? Well it is.
Well done everyone. As you were...
UPDATE 18/04/17
Hayley and the boys have been slyly updating their social media accounts lately, slowly unveiling what looks like some new artwork.
Our guess? Expect the lead single to drop VERY soon.
Plus, as we previously reported, Paramore recently registered a bunch of new song titles via ASCAP, fans immediately picking up on the list and posting it to Twitter.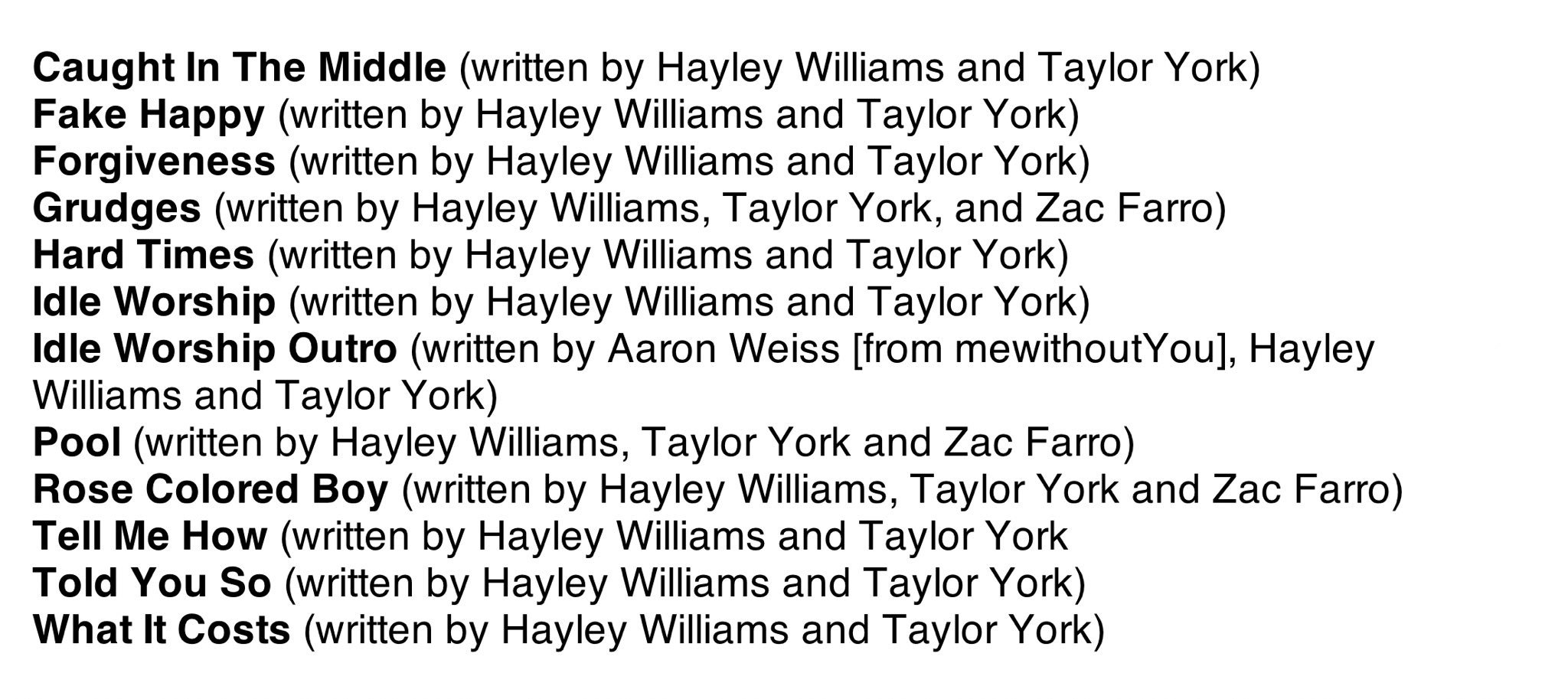 Will one of these titles be the name of their big comeback single? Time will tell...
More info as soon as we get it!
ORIGINAL POST
Paramore have been hard at work in their Nashville studio for months now, working on their fifth studio album, the follow up to their incredibly successful 2013 self-titled record which won them their first Grammy award for ultimate summer bop 'Ain't It Fun'.
Fueled By Ramen
What. A. Song.
But what can we expect from 5more? Here is everything we know so far about the new record from Hayley Williams and co.
1) Zac Is Back!
I'm Back - https://t.co/xSGao05tKU pic.twitter.com/HgooYu3A9h

— Paramore (@paramore) February 2, 2017
After the departure of bassist Jeremy Davis at the end of 2015, Hayley Williams and Taylor York were left as the only two official members of the band. However, shortly after recording sessions started, original drummer Zac Farro, who left the group along with his brother Josh at the end of the Brand New Eyes-era, was spotted in the studio, although the band claimed that he was just acting as a "session" drummer. But now, following a celebratory tweet and limited edition t-shirt, Zac is confirmed as being well and truly back in the fold! Welcome back fella, can't wait to see you back behind the kit on tour.
2) There's a friendly face behind the production desk.
Eating with people not doing anything special at all pic.twitter.com/5mc9cjsCXN

— Paramore (@paramore) June 6, 2016
Justin Meldal-Johnsen, the production genius behind Paramore, Jimmy Eat World's Integrity Blues and even the soundtrack to Tim Burton's Frankenweenie, is back behind the desk once again, also contributing some songwriting skills and session musician work too. Given what an incredible job he did with the group on the last record, this can only be a good thing and may hint at a similar wide variety of musical styles on offer among the new tracks.
3) Hayley gave us a preview of her vocals.
Listen and weep. Pure beauty.
4) We shouldn't have to wait much longer.
Hayley has been tweeting out updates on their progress to fans for months now and it seems that the record is very nearly complete. Expect a release either late summer or early fall in time for some winter touring.
5) Chad Gilbert thinks it sounds great.
Just not as good as his new record. Apparently.
Are you excited to hear the new Paramore album? Let us know below.
___ ___ ___ ___ ___
From Brendon Urie to The Vamps, here are the best bits from the #PopBuzzPodcast in 2016. Listen right here or subscribe for free on iTunes to get new episodes sent straight to your phone every Wednesday.