Post Malone reveals he lost 60 pounds by cutting one thing from his diet
21 August 2023, 17:21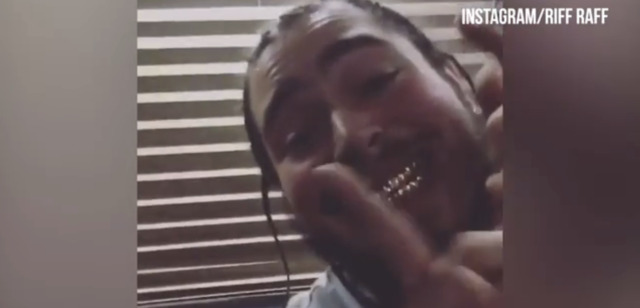 Post Malone shares old video without his face tattoos
Post Malone has shut down rumours that he does drugs and said that he lost weight to be healthier for his daughter.
Post Malone has opened up about his weight loss and how it all began with him wanting to be healthier now that he's a dad.
Fans of Post Malone will already know that the artist has gone through a lot of life changes in recent years. In May 2022, the 28-year-old revealed that his longterm girlfriend was pregnant with their first child. The following month, he confirmed that he is now engaged and he and his fiancée are parents to a baby girl. Post is currently keeping their identities private.
Now, Post has discussed how he lost almost 60 pounds on a podcast with Joe Rogan and what he cut from his diet to do it.
Discussing his weight lost with Joe Rogan, Post said: "I was like 240. Now, I'm like 185." He then explained that he stopped drinking soda and the weight started to fall off of him. Post explained: "Soda is so bad. It's so good but so bad. [But if] I've had a great show, and you know what, I'm feeling a little bit naughty. I'm gonna have myself a Coke on ice."
When Post originally started losing weight, fans started worrying about his health. In April, he took to Instagram to reassure his fans. He said: "I wanted to say that I'm not doing drugs. I've had a lot of people ask me about my weight loss and, I'd suppose, performance on stage. I'm having a lot of fun performing and have never felt healthier."
Post wrote that he changed his habits for the sake of his daughter: "I guess dad life kicked in and I decided to kick soda, and start eating better so I can be around for a long time for this little angel."
Post also said that he intends to give up smoking and alcohol. He added: "Next up is smokes and brews, but i like to consider myself a patient man… lol!"
When Post originally told TMZ that he was becoming a father, he said: "I'm excited for this next chapter in my life. I'm the happiest I've ever been, and for since I could remember I was sad... Time to take care of my body and my family and friends, and spread as much love as we can every day."
Read more Post Malone news here:
Peach PRC Paints A Self-Portrait And Answers Questions About Her Life | Portrait Mode