10 Tracks Rihanna SHOULD Have Released In 2015
17 December 2015, 16:53 | Updated: 31 December 2019, 11:35
"Hey Rihanna, where's #Anti?" "New phone, who dis?"
2015 was a year of disappointments. It was just a let down and we'll tell you why: because Rihanna didn't (at the time of writing anyway) release an album.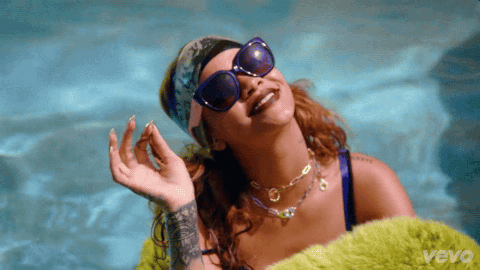 vevo.tumblr.com
For months the singer was teasing the record, tentatively titled #R8 then changed to ANTI, and she even popped out a few singles, the campfire sing-a-long "FourFiveSeconds", the messy "American Oxygen" and the fiery "Bitch Better Have My Money" (the less said about the dodgy film soundtrack the better).
Now, why any new music from RiRi was greatly appreciated we can't like that, essentially, there was no absolute banger that had the imapact of, say, "We Found Love", especially when LOADS of songs released this year would have made brill Rihanna singles.
So, here's a list of just a few we think RiRi should have released...
Zara Larsson - Lush Life

It might be on the pop side of things for Rihanna, admittedly something she seemed keen to avoid, but Zara Larsson's "Lush Life" is a definitive bop, that's got a chorus catchy enough that we could totally imagine RiRi sashaying her way around the stage to it.
Snake Hips - "All My Friends" Ft. Tinashe & Chance the Rapper

When discussing #R8, RiRi said she wanted to make music that was 'timeless', something that she felt was her and, tbh, we feel like "All My Friends" would have been a subdued wistful track that Rihanna could definitely have pulled off. In fact, Tinashe even sounds surprisingly similar to Ms. Robyn Rihanna Fenty during the chorus. The song is weird enough that it would have been the mission statement that Rihanna was trying to make without straying too far from that elusive radio hit.
Major Lazer - "Lean On" ft MØ & DJ Snake

According to a tweet that Diplo sent out this summer, "Lean On" was originally meant for Rihanna, and we think she really missed a beat with this one - given that it was the most streamed song of the year and a super-smash. It has all the hallmarks of a Rihanna classic with it's Asian beats, tropical synths and irresistible hooks. Guess it sux to be Ri with this one, eh?
Sia - "Cheap Thrills"

Another song that was written with Rihanna in mind, Sia's "Cheap Thrills" is a dancehall-lite bop that screams hit. However, we do understand why RiRi turned this one down as it's v. similar to a lot of her previous material. We just can't help but feel that one track that fans might recognise wouldn't have hurt things in the messiness that is ANTI.
Alessia Cara - "Here"

Alessia Cara is, without doubt, the breakout star of 2015 (for us, anyway), but just imagine if Ri had graced us with her vocals on this Isaac Hayes-sampling outcast anthem. It's the right sort of cool R&B that's not immediate but resoundingly memorable. The stream-of-consciousness lyrical style is something that Rihanna has never played with before and we feel that it would have suited her now more mature vibe. Ngl, Alessia is still #1
Seinabo Sey - "Younger"

Ok, this one is kinda cheating as it technicallycame out last year, but it still stands that Rihanna would have been able to bring something special to this one. The mournful lyrics would sit amongst mega-ballads like "Stay" and "Diamonds", their profundity something Rihanna has yet to truly achieve.
Tinashe - "Player"

Ok, yes it's a bit basic, probably too basic for Rihanna, but wow what a banger. B-A-N-G-E-R.
Pia Mia - "Touch"

Co-written by Justin Tranter and Julia Michaels, the team behind The Biebs' "What Do You Mean?", "Touch" is the slut-bop we deserve and probably needed Rihanna to release this year. Yes we really like Pia Mia's version, but we feel that Rihanna could have elevated this song to something else, her raspy Bajan accent adding layers and depth that Pia just can't quite manage. The song's got a slightly melancholic edge, despite being about touched up and down, and we feel that Rihanna's knack at tapping into her emotional side would have just been 100% amazing.
Zedd - "Papercut" ft. Troye Sivan

Now look, we're not massive Zedd fans and we sometimes 'EDM' generic and boring, but there's enough emotional weight in this Troye Sivan assisted track that we feel that Rihanna could have returned to her dance music phase briefly to put together a song that's dark and full of longing. It would probably have to be a tiny bit different as this song is definitively a Troye Sivan song, but we could imagine Rih popping her head up and joining in "Princess of China" style.
Astrid S - "2 AM"

Again, we're kinda cheating with this one as it came out late last year, but regardless we're soldiering on because that's our prerogative (it's the way that we wanna live). Astrid S, a singer from Norway, has appeared on a track with precious baby Shawn Mendes, but this melancholic spacey track has been criminally overlooked. "2 AM" is full of glitching vocals and a syncopated chorus so full of yearning it's hard not to imagine yourself up at, say, 2 AM and not be pining for someone. We seriously think Rihanna could have owned a song like this that's neither radio friendly but not cacophonous *ahem* #BBHMM *ahem*. Oh how different 2015 might have been...
What do you think? Any tracks that Rihanna deffo should have recorded and released that we missed? Let us know pls and thank u.