13 Appropriate Reactions To Rihanna's ANTI
29 January 2016, 14:29 | Updated: 8 May 2017, 17:09
WOR WOR WOR WOR DUR DUR DUR DUR GUH GUH GUH GUH
On first listen, you know ANTI is radically different from anything Rihanna has done before. It's a brave, bold move for a popstar, who's used to churning out banger after banger, to move towards (mildly) less commercial sounds and production.
You'd be forgiven for being confused about how to feel about it. Should we morn the old Rihanna or embrace the newly emancipated RiRi? Well we thought we'd give you a breakdown on our thoughts and feeling on the album. In GIF form. Because PopBuzz.
1) Consideration

2) James Joint

3) Kiss It Better

4) Work

5) Desperado

6) Woo

7) Needed Me

8) Yeah, I Said It

9) Same Ol' Mistake

10) Never Ending

11) Love On The Brain

12) Higher

13) Close To You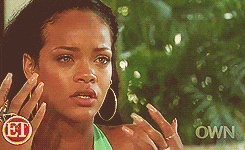 Basically it's amazing. Okay?
Okay.