In Loving Memory Of Rihanna's Louis Vuitton Horse
24 February 2016, 14:22 | Updated: 8 May 2017, 17:09
It's not dead... it's just another outrageous music video conspiracy.
I have gathered you all here today to talk about a truly heinous crime that has ben commited. As we all know, the music industry is laden with conspiracies (*cough* illuminati *cough*) but nothing, NOTHING, has ever rattled our cage like this latest crisis.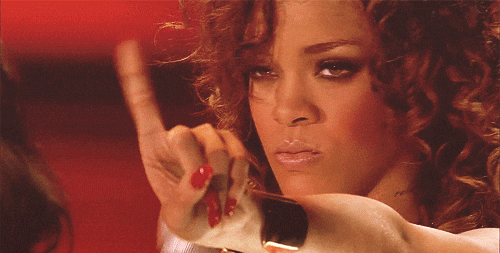 via giphy.com
Remember back in January, when news broke that Rihanna and Drake had recorded together for the infamous ANTI album? And then remember hearing all the rumours that were shooting a video together? Well, we saw the fruits of their labour (??!??!?) earlier this week after they dropped one of the sauciest videos of all time. But it was missing something. And now we're questioning if it ever really happened at all.
THE *clap emoji*
Rihanna & Drake are allegedly filming at a mall in LA overnight, here are some shots taken by fans. #ANTI pic.twitter.com/QJrJQG52zh

— Kontrol Magazine (@Kontrolmag) January 10, 2016
GODDAMN *clap emoji*
More pics surfacing from the Rihanna X Drake music video shoot in LA for "Work", DJ Khaled is there #ANTI pic.twitter.com/hFNzL7HtQS

— Kontrol Magazine (@Kontrolmag) January 10, 2016
LOUIS VUITTON *clap emoji*
How can we not love the video when it's Drake + Rihanna (OTP) visuals & LV monogram printed horse and car like c'mon pic.twitter.com/KIRv5ztdRD

— Renee Castro (@hellorenee) January 27, 2016
HORSE *clap emoji*
Ok now we're really excited. Finally a close up of this festive Louis Vuitton horse. Rihanna X Drake Video #ANTI pic.twitter.com/XH7TXeTnSt

— Kontrol Magazine (@Kontrolmag) January 10, 2016
Where is it? I didn't sit tight for over a month just to watch Rih canoodle with Drake - who is wearing a co-ordinating tracksuit in a club FFS - for 7 minutes... even if you are my OTP. I WANTED THE MAJESTY OF HRH ROBYN RIHANNA FENTY ON THAT HORSE DAMNIT! Is there another video on the way? Was it just for tour visuals? Does Drake know about this? Cause he wouldn't lie to us, right? Lemme call him. What if it was just a decoy? WHAT IF IT WASN'T EVEN REAL IN THE FIRST PLACE?
The only person that truly knows what happened that fateful night is Snapchat extraordinaire DJ Khaled. He holds the key to this whole mess.
So what's the tea, Robyn? WHERE. IS. THAT. FREAKIN'. HORSE?! #PrayForKissItBetterVideo
via giphy.com