Selena Gomez says Disney wouldn't let her say "What the hell?"
16 February 2023, 12:36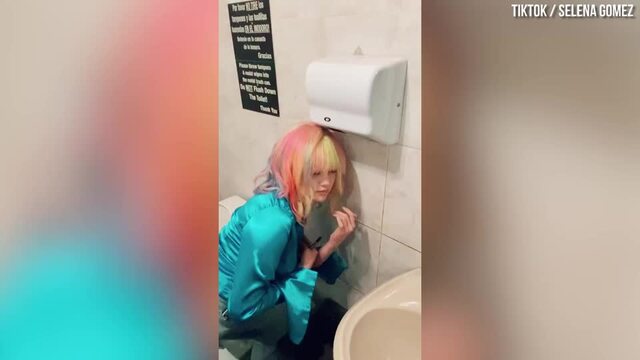 Selena Gomez dries her hair in the toilet
Selena Gomez says she had become so used to "censoring" herself to live up to her Disney image.
Selena Gomez has opened up about her Disney Channel days and revealed that she wasn't allowed to say 'What the hell?'.
You don't have to be a Selena Gomez fan to know that she first rose to fame on the Disney Channel. After playing the role of Alex Russo in Wizards of Waverly Place, Selena won the hearts of millions of fans. Since her Disney Channel days, Selena has become a critically acclaimed actress in her own right and one of the most successful artists in music right now.
Discussing her Disney past, Selena has revealed that she finally feels "free of it" and all the restrictions that came with it.
READ MORE: Selena Gomez says she loves her body after trolls criticise her bikini photo
Speaking to Vanity Fair about her Disney years and whether or not she feels "haunted" by them, Selena said: "I definitely feel free of it. Sometimes I get triggered." She then specified: "It's not that I'm ashamed of my past, it's just that I've worked so hard to find my own way. I don't want to be who I was. I want to be who I am."
Selena also spoke frankly about the rules and regulations that Disney put in place. She stated: "I wasn't a wild child by any means, but I was on Disney, so I had to make sure not to say "What the hell?" in front of anyone. It's stuff that I was also putting on myself to be the best role model I could be."
Selena added that her perception has completely changed as an adult: "Now I think being the best role model is being honest, even with the ugly and complicated parts of yourself."
With new Disney stars like Olivia Rodrigo now able to swear in their debut singles, it looks as though the tide is finally turning.
Selena said that part of the reason why she decided to speak publicly about her bipolar disorder diagnosis was because she wouldn't have been able to in the past. She explained: "I'm just so used to censoring myself that it was a) me wanting to let go and b) if they're telling me to be quiet about it, that's not good because that's genuinely not the place I'm in anymore."
Selena continued: "Maybe it was weird and uncomfortable for other people, and obviously I was worried, but I think it finally allowed me to start being open about everything. It's not that I was kind of sad—I actually have things that are chemically imbalanced in my brain, and I need to understand what that is, take care of it, and nurture it."
Discussing how she feels about her diagnosis, Selena said: "I'm not ashamed of it. I don't ever feel, even for five seconds, that I'm crazy. My thoughts tend to ruminate, but it's up to me to be proud of who I am and to take care of myself."
Selena ended by saying: "I don't want people to ever have anybody tell them, 'Don't say that because it'll seem bad. You won't get this job or that boy or that girl or whatever.' I guess I was rebelling."
Lockwood & Co. Cast Interview Each Other | PopBuzz Meets