Selena Gomez gains 15 million followers amid Hailey Bieber and Kylie Jenner drama
1 March 2023, 13:05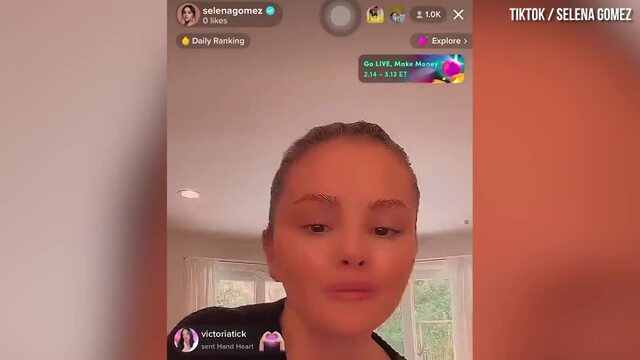 Selena Gomez quits social media
Selena Gomez is now the most followed female celebrity on Instagram with 390 million followers.
The recent Selena Gomez, Hailey Bieber and Kylie Jenner drama has spilled over from TikTok to Instagram, and Selena has seen a massive increase in followers because of it.
The "drama" in question first started way back in January when Hailey Bieber denied throwing shade at Selena in a TikTok with Kendall Jenner and Justine Skye shortly after the Only Murders actress was bodyshamed over a bikini photo.
Then, in February, Selena posted a TikTok explaining that she felt that she had 'over-laminated' her eyebrows. Shortly after that, Kylie Jenner posted a photo of her eyebrows with the words "this was an accident???" alongside a picture of Hailey's eyebrows. Kylie then responded to a TikTok accusing her and Hailey of being 'mean girls', calling it a "reach". Selena also shut down the accusations, commenting that she was a fan of Kylie.
Then, one of Selena's TikTok comments went viral after fans noticed she commented on an old video of Hailey appearing to gag at the mention of Taylor Swift's name. Selena wrote: "So sorry, my best friend is and continues to be one of the best in the game."
And here is where we now find ourselves. Selena has left social media, and people are mad at Hailey and Kylie. It also seems like people are making their feelings known about the whole thing based on who they're following on social media.
While both Hailey and Kylie have seen a dip in followers following the 'mean girl' accusations, Selena has gained a huge amount of new followers.
Since Selena's TikTok comments and her announcement that she's stepping away from social media, her following has skyrocketed on Instagram. (And on TikTok, where she's gained 600,000 followers too.)
According to Selena's Social Blade stats for Instagram, she has gained a massive 10.5 million followers since February 22nd. And over the past 30 days in total, Selena has gained 15.6 million followers.
That puts Selena back in the number one spot as the most followed female celebrity on Instagram with 390 million followers, once again overtaking Kylie Jenner who now has 379 million followers.
On the flip side, things haven't been going well for Kylie and Hailey in the Instagram followers department. (Their comment sections are also being flooded by Selena Gomez fans calling them "mean girls".)
Since February 22nd, Kylie has lost a whopping 800,000 followers, but she's also gained 150,000 followers in that timeframe too. Overall, Kylie has still gained more followers than she's lost within the last 30 days.
Hailey Bieber, however, has lost over 500,000 followers since February 22nd. Her Instagram account has taken quite a bit of a nosedive since the drama, and over 30 days, she's seen a decrease of 207,000 followers... And her follower count is still going down.
That said, Kylie still has 379 million followers and Hailey still has 49.9 million.
Evangeline Lilly & Kathryn Newton Try To Name Every Marvel Movie In 1 Minute | Quantumania