Gigi Hadid and Selena Gomez Are Mad AF And Fighting Their Bodyshamers
29 September 2015, 15:04 | Updated: 8 May 2017, 17:09
And here's how these young, famous girls are fighting the system.
In the grand scheme of things, it's probably quite fun being young, rich, and famous. Trips to Paris for Fashion Week and nights at the Versace Mansion certainly beat sitting through Algebra II in a crowded public school. I'm not going hand out condolences for the rich teenagers gracing the covers of Vogue and Harper's Bazaar but, let's be real, it's harder being a famous kid than most of us realise.
Model and professional famous person, Gigi Hadid, wrote an open letter on her Instagram addressing the people who use social media to attack her body and appearance. Gigi, with her famous family, stunning face and well-proportioned body revealed that she faces criticism of her looks, much like other stars her age.
So many people are so quick to comment negative opinions this month. Yes, judgment on social media comes from people who, 99% of the time, have no idea what they're talking about, but I'm human, and I'm not going to lie, I did let the negativity get to me a little. [...[ Yes, I have boobs, I have abs, I have a butt, I have thighs, but I'm not asking for special treatment. I'm fitting into the sample sizes. Your mean comments don't make me want to change my body, they don't make me want to say no to designers that ask me to be in their shows, and they definitely don't change the designers opinions of me.

Gigi Hadid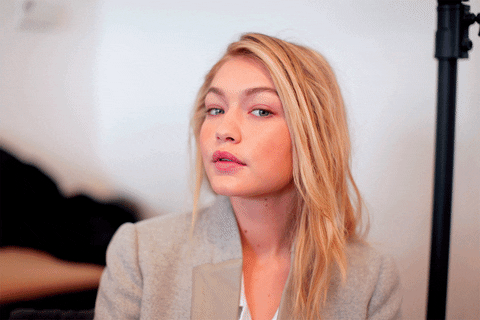 Gigi Hadid is 20 years old, has already walked for the biggest names in fashion and has been the face of Guess and Topshop. While her professional accomplishments highlight the power of a huge social media following and a very full contact book, it also proves that success does not make a person impervious to the hyper-scrutiny of living life under a magnifying glass.
Take Selena Gomez, for example, who has said that baring her body on the cover of her upcoming album has opened the floodgates of criticism from youngsters on social media. She is in her early 20s and has been famous most of her life but she says this year is the year that the comments have reached their peak.
I dealt with a lot of body shaming this year and I've never experienced that before. But I did start gaining weight and I didn't really mind it. Man, that hurt. It was really hurtful.[...] I'm not gonna give a f*ck what people say. [...] I'm not gonna let them get to me.

Selena Gomez
Perhaps the question isn't why we, as spectators, feel the need to scrutinise these female stars in this way, but rather why we feel ownership over these women and their bodies.
A woman who feels confident enough to share her body in the form of a modelling gig or an album cover should be praised instead of ridiculed by strangers on the internet. But that's where it gets tricky. When you grow up with someone, follow their career, and engage with them on social media, it might not feel like you're being cruel. It might not feel like an unnecessary attack because they're not a "real person", they're merely a concept.
@ddlovato fat

— :-) (@vainouis) September 24, 2015
The truth is that these celebrities don't belong to us. They're not ours to ridicule, scrutinise or censor. They're here to entertain us, sure, but that does not give us license to abuse them in this way. We take for granted the fact that most of us haven't had to grow up alongside a 24 hour news cycle. It must truly be impossible to grow up normal in a world that would rather talk about your thighs than acknowledge your worth.
These young, beautiful stars aren't abstract concepts. They're real people who see the things you write and hurt in the same way you do. The sooner we start to treat them as people with value, the sooner we can recognise the value of ourselves.