Selena Gomez is being accused of "blackfishing" in her latest magazine cover shoot
14 April 2020, 17:23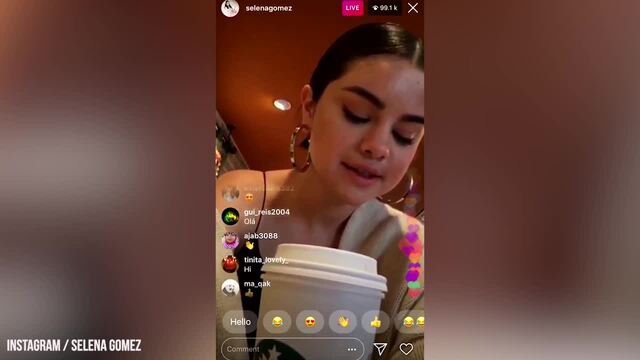 Selena Gomez teases her new album on Instagram live
Selena is being compared to Bhad Bhabie and Ariana Grande, who have both been accused of blackfishing.
Blackfishing is kind of a sensitive topic right now. In the past, celebrities like Kim Kardashian and Ariana Grande have been accused of blackfishing. And just last week, Bhad Bhabie received backlash for purposely darkening her skin to make herself "look like a black woman". Now Selena Gomez is being accused of blackfishing in her latest magazine cover shoot.
READ MORE: Selena Gomez fans think her Feel Me lyrics are about Justin Bieber
The shoot in question was for Interview magazine's Spring 2020 issue. The singer was interviewed by comedian Amy Schumer and Selena opened up about everything, from her "out of control" personal life to her upcoming makeup collection, Rare Beauty. However, it was Selena's cover photos that had everybody shook.
Selena looked phenomenal in the images, but she looked remarkably different to how we usually see her. Selena's hair was styled in several long braids with baby hairs on her forehead. She also sported a much more bronzed complexion.
People were quick to note that Selena should receive the same sort of criticism that is given to Bhad Bhabie and Ariana Grande.
Although she looks good I can't tell if it was Kehlani at first glance. But if Ariana did something like this fake woke twitter would drag her to the ground saying she's "blackfishing". You know Selena is a white Latina not a Mestizo. pic.twitter.com/l945eBnlbt

— Jas (@fentyrings) April 13, 2020
Let's get something straight.... there's nothing wrong with a tan BUT when you add baby hairs and turn the tan to 100... you're blackfishing. Selena looks like that episode of Spongebob when his tan fucked up. Fucking clown pic.twitter.com/BsQgC49yPK

— 𝔇𝔞'𝔔𝔲𝔞𝔫 🐝 | #𝔐𝔥𝔫𝔞 🦍 (@takeallofbey) April 13, 2020
However, Selena's loyal fans defended her and noted that her father is Mexican and therefore she is likely to be more darker skinned.
NO BUT LIKE PEOPLE ARE ACTUALLY DRAGGING SELENA FOR BLACKFISHING WHEN SHES LITERALLY MEXICAN AND THOSE PICTURES WERE EDITED BY THE MAGAZINE??????

— MOODI (@kindofcrazy) April 13, 2020
bad barbie is trying to darken her skin, it's understandable to drag her... but y'all really trying to say SELENA GOMEZ is blackfishing... pic.twitter.com/OTVI5Zz5Nc

— laccius (@lacciusspam) April 13, 2020
What do you think about Selena's Interview shoot? Tweet us @popbuzz and let us know!