Kylie Jenner denies making fun of Selena Gomez's eyebrows with Hailey Bieber
23 February 2023, 15:45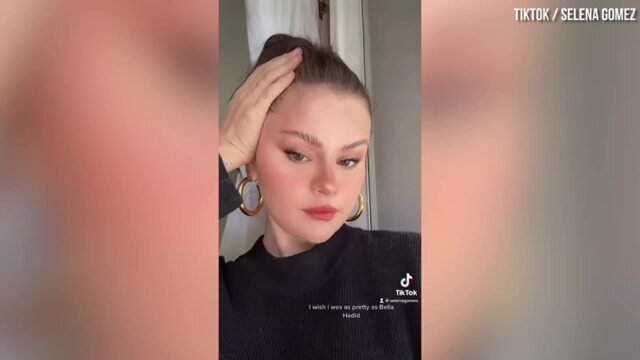 Selena Gomez says she wishes she was "pretty" as Bella Hadid
A video accusing Kylie Jenner and Hailey Bieber of throwing shade at Selena Gomez recently went viral on TikTok.
Kylie Jenner has denied accusations that she was making fun of Selena Gomez's eyebrows in a series of Instagram stories.
Earlier this week (Feb 22), Selena Gomez posted a now-deleted TikTok video in which she says: "I accidentally laminated my brows too much." Three hours later, Kylie Jenner posted an Instagram story of herself with highly laminated brows and the caption: "This was an accident???". She also posted a photo of her and Hailey Bieber showing off laminated brows.
This led people to believe that Kylie and Hailey were mocking Selena. Now, Kylie and Selena have addressed the incident.
READ MORE: Selena Gomez says she wishes she was "as pretty as" Bella Hadid
In a viral TikTok video, @devotedly.yours says: "I do believe Kylie Jenner posted these stories about Selena Gomez. They are shading Selena Gomez and this is very, very, very childish. What I want to understand is why? I don't get it. Especially when they know that Selena Gomez is someone who constantly battles with her mental health. What is the purpose?"
The video was viewed over 3.8 million times, leading Kylie to respond. She commented: "this is reaching. no shade towards selena ever and i didn't see her eyebrow posts! u guys are making something out of nothing. this is silly."
Selena also weighed in by adding: "Agreed @kyliejenner It's all unnecessary. I'm a fan of Kylie!"
@devotedly.yours has since posted another video reading Kylie's comments. She says: "Whether or not she's being honest, I don't know. I can't tell you. I'm not a Selenator but I have loved her since Wizards of Waverly Place and I have always felt very protective of her. Imma say something if it smells fishy."
Selena has also left a heart emoji as a comment under the second video.
Paul Rudd Tries To Name Every Marvel Movie In 1 Minute | Quantumania | PopBuzz Meets