You Probably Missed Selena Gomez's Last Comment On Bieber's Instagram
15 August 2016, 12:00 | Updated: 8 May 2017, 17:09
Bieber just got SCALPED.
If you don't follow Justin Bieber on Instagram, then you will have (luckily) missed his uploading spree this weekend. On Sunday, Biebs added 6 new pictures of himself and his apparent new girlfriend Sofia Richie. After getting a fair bit of slack from his fans over the snaps, he uploaded the last one with a salty comment to his fans.
He wrote: "I'm gonna make my Instagram private if you guys don't stop the hate this is getting out of hand, if you guys are really fans you wouldn't be so mean to people that I like." YIKKKESSSSS!
Soon after the snap went live, #RIPBeliebers started trending on Twitter 'cause he referred to his fans as fans instead of their official moniker. End of an era y'all! They then - the majority of which are Selena Gomez fans - soon started flooding his page with snake emojis.
And just when you thought that was as shady as this whole saga could get, Selena herself took to the comment section to put him in his place.

via twitter.com
Well, damn! Soon after posting the comment, she uploaded this fan collage to her own Instagram, letting her fans know how much they mean to her. She had a very fair point - Justin would be nothing without his fans! But in true must-have-the-last-word Bieber fashion, he was having none of it and decided to clap back on her! via Twitter.com
This, by the way, is coming from the same guy who keeps posting throwback pictures of himself with his ex-girlfriend even though they've been broken up for almost 500 years now. Talk about using someone for attention. AMIRITE, LADIES?!
AND THEN, just when you were ready to call it a nice and switch your phone to airplane mode, Selena *apparently* commented back with this: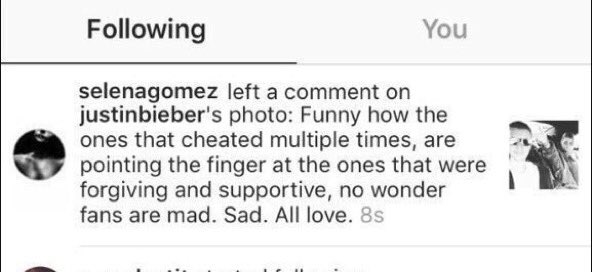 THE CLAPBACK TO END ALL CLAPBACKS! No word yet on whether that was ~actually~ a genuine comment left by Gomez The Destroyer but we low-key hope it is. (The first comment is legit btw, here's the evidence.)
The internet are living for it regardless. #SelenaEndedJustinParty is truly poppin'.
RT IF SELENAS CLAPBACK GENUINELY HAS YOU SHOOK #SelenaEndedJustinParty pic.twitter.com/cUDsHqSib9

— Common White Girl (@girlhoodposts) August 15, 2016
SHE KILLED HIM WITH KINDNESS LMAO. IM SHOOOOOK!!!! #SelenaEndedJustinParty pic.twitter.com/lT7PbHHE6J

— saint katie (@arislilcloud) August 15, 2016
me right now #SelenaEndedJustinParty pic.twitter.com/ne0czNYSDa

— Ischtar Isik (@IschtarIsik) August 15, 2016
Kill 'em with kindness, Selenerrrrr!
via giphy.com