Shawn Mendes says men should not be "afraid" to wear crop tops
23 March 2023, 14:41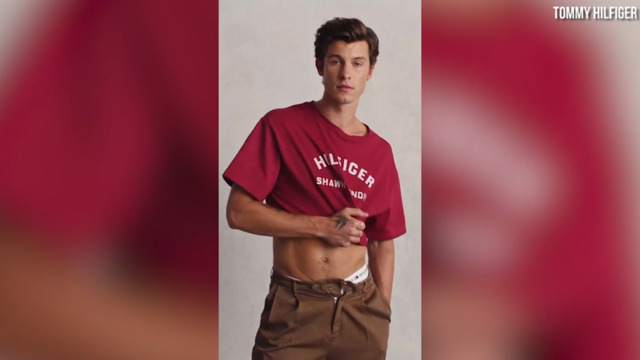 Shawn Mendes wears crop top in new Tommy Hilfiger ad
"They're super beautiful. They look great on men. So don't be afraid to pick them up, guys. They look good."
Shawn Mendes is encouraging other men to not be afraid to wear crop tops and, honestly, we have no choice but to stan.
Yesterday (Mar 22), Shawn Mendes officially launched his new Tommy Hilfiger collection in London. The highly-anticipated clothing collab, Tommy X Shawn Classics Reborn, includes a variety of classic Tommy Hilfiger pieces reimagined for the modern day. From polo shirts to letter jackets, the new line has something for everyone including multiple crop tops.
Now, Shawn Mendes has opened up about why it was important for him to include crop tops in his Tommy Hilfiger collab.
READ MORE: Shawn Mendes calls out Florida's homophobic Don't Say Gay bill
Discussing the line in a Tommy Hilfiger livestream for the London launch, Shawn opened up about his favourite pieces in the collection. Shawn revealed: "I also love the crop. They're super beautiful. They look great on men." Shawn then made sure to encourage men to try crop tops out. Shawn said: "So don't be afraid to pick them up, guys. They look good."
While the crop tops are listed as women's items on the Tommy Hilfiger website, Shawn has revealed that all the pieces are designed to be worn by anyone of any gender. For example, hit music producer Mike Sabath wears the women's cream crop top in the campaign shoot for the collection.
Discussing why Mike wore a crop in the campaign, Shawn told The Evening Standard: "We put the crop on him and were like — hot. That's it. Like, yes. He would look amazing in anything."
He ended by saying: "I think it's just a representation of what clothing is today, you know, that masculine-feminine thing."
Similar to Mike, Shawn wears the women's red crop top in videos promoting the collection.
Thank you Tommy for the opportunity to co create with you & your incredible team. Thank you for always pushing boundaries for sustainable clothing & thank you for inviting my FAMILY to be part of this campaign. It means the world. So proud of this collection ❤️💙🌈 #TommyHilfiger pic.twitter.com/EdKe9vHP3d

— Shawn Mendes (@ShawnMendes) March 16, 2023
From Will Smith to Kid Cudi, men have a long history of wearing crop tops and we love to see Shawn joining the mix.
Read more Shawn Mendes news here:
Penn Badgley vs. 'The Most Impossible Penn Badgley Quiz' | PopBuzz Meets