RANKED: The Wildest Things That Have Allegedly Happened In The Taylor Swift Universe
25 August 2017, 15:11 | Updated: 25 August 2017, 15:17
Yeah, Tay's universe is...exhausting.
Taylor Swift released her comeback single "Look What You Made Me Do" this week and you'll probably be hearing about that for a while. Meanwhile, since everything is Taylor Swift again, we thought we'd rank the wildest Taylor universe moments in order of general weirdness.
DISCLAIMER: Please don't sue me, Taylor. We're just having a bit of a laugh, sis. (Please don't sue).
5) Did Taylor
intentionally

release her back catalog on streaming services the same day as Witness just to get revenge on Katy Perry?

It's the feud that will never end. Earlier this year Taylor Swift released her back catalogue of music to streaming services like Spotify and Google Play, eclipsing Katy Perry's release of Witness. Her actions led to headlines like "Taylor Swift's back catalogue is currently outperforming Katy Perry's 'Witness' on Spotify".

Did Tay do it on purpose or does she just love June 9th? The world may never know.
via Getty
4) People questioning the authenticity of #HiddleSwift.
Tom Hiddleston and Taylor Swift's relationship is a pop culture moment that still feels like a fever dream to me. The internet couldn't help but question the authenticity of Tay and Tom's relationship. They were a very "camera ready" pair, a fact which fueled the internet's imagination.
Tom Hiddleston has said that the relationship was definitely real, but there are #HiddleSwift truthers out there.
Did Tay orchestrate an A-list romance? Probably not.
3) Taylor reveals she is "Nils Sjöberg".
Here's the story. When Taylor Swift and Calvin Harris were together, they wrote a charming little ditty called "This Is What You Came For". Initially, Taylor didn't take the songwriting credit, opting to call herself "Nils Sjöberg". After the rumours started swirling about her real role on the song, Taylor confirmed that she was, indeed, Nils.
One question: what was the point?

via giphy

2) People thinking she was carried out of her apartment in a suitcase.
This one is definitely false but the internet was shook to its core when SPLASH news agency shared a strange caption insisting that Taylor Swift had been carried out of her apartment in a giant suitcase. SPLASH was forced to retract the story but this still haunts me.
Could it happen? Did it happen? Obviously not (don't sue, Taylor).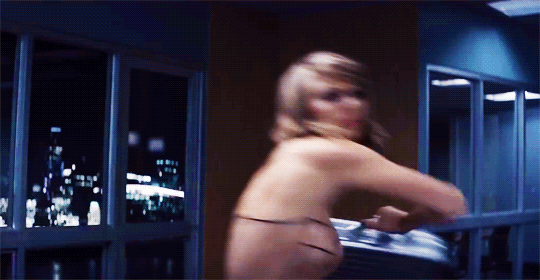 via Big Machine Records LLC
1) Reputation being released the same day as Donda West's death.
People have noticed something interesting about the release date of Reputation. Donda West (Kanye West's mother) died on November 10, 2007. Taylor Swift's album is coming November 10, 2017. You'll remember that Kanye and Taylor are mortal enemies. Swift fans have maintained that this choice of date is in keeping with Taylor's affinity for the number 13 (1+1+1+0+2+0+1+7=13).
Taylor is very close to her mother, so we doubt she would center her entire revenge album around the death of her enemy's own beloved mother. It's all a bit much to think about isn't it?
via FX/It's Always Sunny In Philadelphia