Taylor Swift fans feel "exploited" over 1989 (Taylor's Version) vinyl variants
23 August 2023, 14:50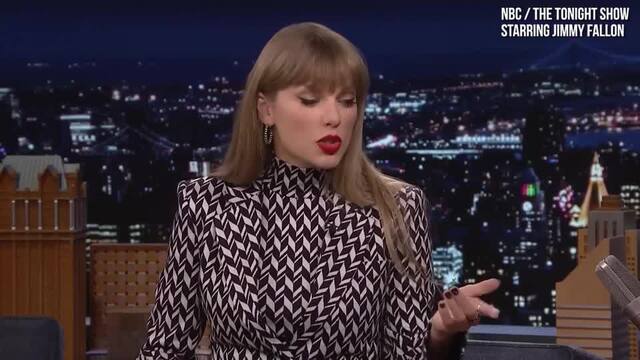 Taylor Swift amazed by fan reaction to record-breaking Midnights album
Taylor Swift is dividing fans by releasing multiple versions of the same album and encouraging fans to buy all of them.
Taylor Swift fans have accused the star of trying to "exploit" them after releasing another 1989 (Taylor's Version) vinyl variant.
Earlier this month (Aug 9), Taylor Swift announced that she would be releasing 1989 (Taylor's Version) on October 27th. In the weeks since, Taylor has made the album available to preorder in multiple different versions. As it stands, there is the classic vinyl, CD and cassette but also four additional CDs in different colours as well multiple vinyl variants with different covers.
On Monday (Aug 21), Taylor made a third vinyl variant of 1989 (Taylor's Version) available. Like the Sunrise Boulevard Yellow edition before it, The Aquamarine Green Edition has a unique cover, costs $31.89 and is available to preorder for 48 hours.
Now, people are complaining that Taylor is "money-grabbing" by releasing so many different versions of the same album.
READ MORE: Taylor Swift Eras Tour start times: What time does Taylor Swift take to the stage?
Reacting to The Aquamarine Green Edition of 1989 (Taylor's Version) in a subreddit on Taylor Swift's popular Reddit page, a fan wrote: "Another shameless cash grab." Another added: "I'm actually annoyed she keeps doing this" and someone else commented: "Why. So. Many. Version. Of. The. Same. Damn. Album. Taylor. I cannot deal with the money grabbing feel."
Fans also criticised Taylor for releasing the vinyl variants one by one for limited time periods and only unveiling the covers when she makes them available to buy. As a result, people are feeling pressured to buy each vinyl when it goes on sale. They're also upset that they can't choose which cover they like best because they haven't seen the others.
A person wrote: "I am so annoyed that she's releasing these one by one." Another said: "I feel like an idiot for buying the previous 48 hour special when this is such a prettier cover photo. I wish she'd just show all the options at once."
Someone also asked why she releases so many variants when the album tracklist is still the same and a person argued: "Money lol. They know they can exploit most of the fanbase."
Of course, Taylor isn't the only artist to sell multiple versions of the same album. Most artists these days release different CD and vinyl bundles so that fans physically purchase their music. When it comes to chart sales and profit, physical sales are more lucrative than streaming. This has sparked some backlash because many fans never play their CDs or vinyls.
When Taylor released Midnights in October, she famously released four vinyl variants so that fans could purchase all four to make a clock. The album broke the record for her biggest US first week sales with 1.578 million copies.
With so many variants, it seems likely that Taylor is looking to break her record again with 1989 (Taylor's Version). In 2014, the original 1989 album sold 1.287 million copies in its first week in the US.
What do you think? Are the vinyl variants fun or exploitative?
[H/T - Buzzfeed]
Peach PRC Paints A Self-Portrait And Answers Questions About Her Life | Portrait Mode