Dylan O'Brien plays the drums on Taylor Swift's Snow on the Beach
21 October 2022, 12:20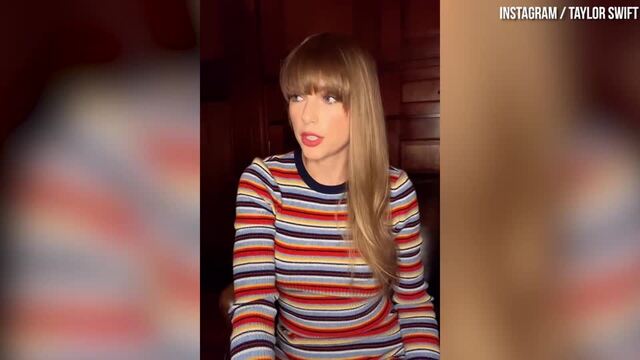 Taylor Swift praises Lana Del Rey as she talks about their collaboration track on new album
"Oh Tumblr in 2014 would've been in FLAMES over the crossover that is Dylan O'Brien drumming on a Taylor Swift and Lana Del Rey collab."
Taylor Swift's tenth studio album has officially arrived – and those extra 7 tracks on the surprise 3AM Edition weren't the only shock fans got last night.
If you've been keeping up with all the details that Taylor has shared about Midnights so far, you'll know there's a Lana Del Rey collaboration, you'll know that Zoë Kravitz wrote on a couple of the tracks and you'll know that Joe Alwyn (the artist also known as William Bowery) is credited on 'Sweet Nothing'.
But did you know that Dylan O'Brien is also credited on the album? Yep, the actor – who starred in Taylor's directorial masterpiece All Too Well (The Short Film) – is named as a contributor on two of the album tracks. On one song, he provided 'crowd applause' and on another, he literally plays the drums.
Which Midnights songs is Dylan O'Brien credited on?
Dylan O'Brien plays the drums on Taylor Swift's 'Snow on the Beach'
Yep, it's true... Dylan O'Brien is credited for playing drums on the wistful Lana Del Rey collab. Jack Antonoff also provides drums for the track, and the two are credited together in the album notes.
Fans clocked that Dylan was credited and promptly took to Twitter to share their surprise. Several videos of Dylan playing the drums with his old band, Slow Kids at Play, have now gone viral on social media thanks to the revelation.
oh tumblr in 2014 would've been in FLAMES over the crossover that is dylan obrien drumming on a taylor swift and lana del rey collab

— syd (@COSMlCSYD) October 21, 2022
Dylan O'Brien is also credited on 'Question...?'
Ok, so this one is not as major as literally playing the drums on a Taylor Swift song but it's still a pretty iconic credit.
Dylan's name is credited in the album notes for the seventh track for 'crowd applause'. Just after Taylor sings the lyrics, "Did you ever have someone kiss you in a crowded room/And every single one of your friends was making fun of you?/But 15 seconds later they were clapping too?" towards the end of the song, you can hear a crowd clapping and cheering.
That group is made up of Jack Antonoff's sister Rachel, Taylor's brother Austin Swift and Dylan O'Brien. Who knew!
'All Too Well (10 Minute Version) (Taylor's Version)', 'Snow on the Beach', 'Question...?'... What will Taylor and Dylan do next!?
Sofia Wylie & Sophia Anne Caruso Pick Their Own Interview Questions | The School For Good And Evil