Emily Ratajkowski says not liking Taylor Swift made her a misogynist
3 August 2023, 17:23 | Updated: 3 August 2023, 17:28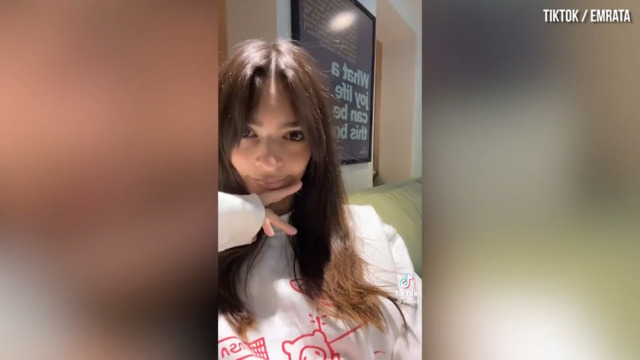 Emily Ratajkowski comes out as bisexual on TikTok
Emily Ratajkowski revealed that she used to dislike Taylor Swift in the past because of internalised misogyny.
Emily Ratajkowski has opened up about her love of Taylor Swift and said that not liking her music made her a misogynist.
You don't have to be a Swiftie to know that Taylor Swift has no shortage of famous fans. As well as being besties with stars like Selena Gomez and Gigi Hadid, celebrities regularly show up at Taylor's concerts. Over the course of The Eras Tour so far, fans have seen the likes of Emma Stone, Jennifer Lawrence and Shawn Mendes all singing along in the audience.
Now, Emily Ratajkowski has revealed that she's a fan of Taylor but used to dismiss her music because of internalised misogyny.
READ MORE: Taylor Swift reveals who her August lyrics are actually about
Speaking to Troye Sivan on her High Low podcast, Emily revealed that she used to avoid pop music. The model, author and actress said: "I kind of grew up [with] a little snobbery around my generation. I wasn't somebody who listened to pop music a ton. Actually, a lot of times the things that are popular are actually just incredibly good. I came around..."
She then explained that Taylor Swift was a big turning point for her. Emily said: "I was not a Swiftie and now I'm like, 'You know what that means? That means I was a misogynist that I didn't fuck with Taylor Swift."
Emily then added: "Because I went to her concert and I was like, 'This person is an incredible songwriter, an incredible performer, and anybody who says anything else? Like, they have issues. And actually maybe not a very sophisticated palette.'"
Emily ended by saying: "I know a lot of jaws would drop, but I do think that's true. If you don't like Taylor Swift, then, like, you don't understand things."
Troye Sivan | High Low with EmRata
This isn't the first time that Emily has come to Taylor's defence. In the past she's called out Ellen DeGeneres on TikTok for questioning Taylor about her dating life despite Taylor making clear that she didn't like it.
Reacting to an old interview of Ellen and Taylor, Emily wrote: "This is so fucked up. She's literally begging her to stop."
Read more Taylor Swift news here:
The Witcher Cast Interview Each Other | PopBuzz Meets