Taylor Swift fan makes $16,000 selling friendship bracelets for the Eras Tour
9 August 2023, 12:22 | Updated: 18 August 2023, 13:53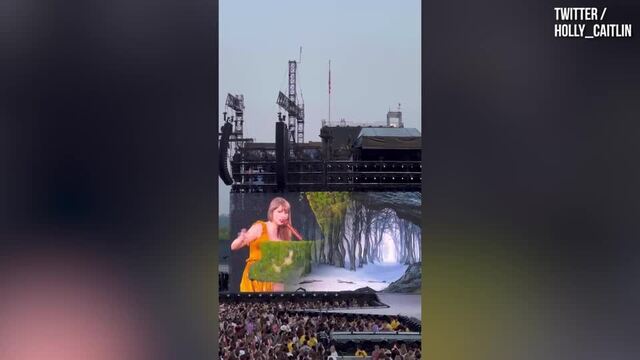 Taylor Swift explains why Cruel Summer wasn't released as a single
Got loads of left over Eras Tour bracelets that you didn't get to trade? Looks like it might be a good idea to sell them online!
Busy making friendship bracelets for the Eras Tour? Well, it could turn into a very lucrative business if you started selling them online.
Ever since Taylor Swift began her record-breaking Eras Tour, fans have been trading friendship bracelets adorned with song titles, lyrics, inside jokes and other Taylor Swift-themed messages. Inspired by a lyric from Taylor's 'You're On Your Own, Kid', the bracelet trading has become a key part of attending an Eras Tour show.
While the majority of people have been making them themselves, there's also plenty of places online where you can buy batches of ready-made bracelets in case you don't have time to make your own before your show.
Oklahoma resident Jamie Tompkins, 46, has been busy making and selling these bracelets for Swifties – and she's earned a whopping $16,000 so far.
READ MORE: Every surprise song performed on Taylor Swift's Eras Tour so far
Speaking to Insider, Jamie explained that she originally opened her Etsy shop (PigtailsandPixiDust) in early 2022 as a hobby. But her Eras Tour side hustle really took off after she attended the concert with her daughter in Arlington, Texas back in April 2023.
"I started out selling hair bows and headbands on my shop, then my daughter and I made 100 friendship bracelets to trade at the Eras Tour," Jamie told the outlet. "We ended up having roughly 50 left and my daughter suggested that I put them on my Etsy shop and see if I could sell them. They sold out in two days, and I have been making more every day since."
Jamie currently sells packs of five bracelets for $15, and they all feature Taylor's iconic song titles and lyrics. There's also plenty of 'Swiftie' bracelets in there too.
People have been buying them in such large quantities that Jamie has now said that she hopes to save the money she's made and be able to retire early to focus on her Etsy shop.
For those now thinking about setting up an Etsy shop and selling them themselves, Jamie has warned that it takes a lot of hard work.
"You have to put in a lot of work to make it successful," she said. "It's not an easy side hustle, it requires a lot of hard work and dedication, but if you're making something you love it is all worth it."
While the first U.S. leg of the has now come to a close, there's still plenty more dates to come. Got loads of left over bracelets that you didn't get to trade? Looks like it might be a good idea to sell them online!
NCT DREAM vs. 'The Most Impossible NCT DREAM Quiz' | PopBuzz Meets