Taylor Swift's Eras Tour movie setlist will not include 'Tis The Damn Season'
26 September 2023, 13:39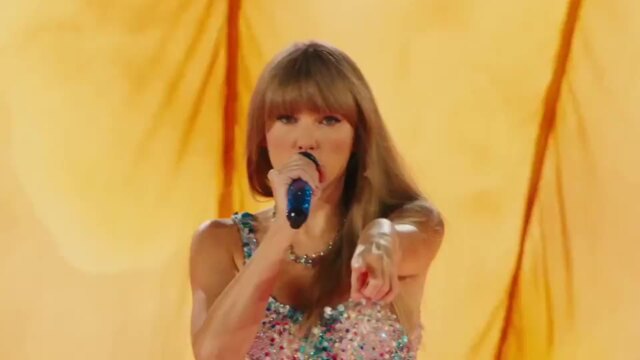 Taylor Swift announces The Eras Tour concert film with trailer
Filming for Taylor Swift's Eras Tour movie took place in Los Angeles, which means Tis The Damn Season will not be included in the setlist.
Have you heard the latest Eras Tour news? Taylor Swift has finally confirmed that an Eras Tour concert film is on the way. Not only that, but it'll be screening in cinemas worldwide starting October 13th. Eras Tour on the big screen? Say! No! More!
Taylor's show-stopping 3-hour long concert is set to be transformed into an unforgettable theatrical experience, complete with all 45 songs in the setlist – including the all-important two surprise songs. Thousands of fans have already secured their tickets, with sales already surpassing $10 million.
But while the excitement to experience the Eras Tour in HD is at an all-time high, some Swifties are mourning the loss of one particular song that they have now realised will not be included in the movie. It's sad news if you're a lover of Evermore's 'tis the damn season'...
What songs will be in Taylor Swift's Eras Tour movie?
Taylor's Eras Tour concert film appears to have been filmed during her 6-night run at the SoFi Stadium in Los Angeles. According to Billboard, filming took place at the first three shows on August 3rd, 4th and 5th.
And for those that have been keeping track with the setlist and special guest appearances, you'll know that Taylor performed with HAIM for the final string of Californian shows of the Eras Tour's North American leg.
During the Evermore section, HAIM joined Taylor on stage to perform their collaboration 'No Body, No Crime'. But in order to fit that song into the show's over-all 3 hour 15 minute (...ish) runtime, Taylor had to cut another song from the setlist.
'Tis The Damn Season' ended up getting the chop for those shows, which means fans will not probably not get to see that number performed on the big screen. (It returned to the setlist when Taylor performed in Mexico City.)
'Invisible String', which was on the original setlist, was replaced by 'The 1' during the Folklore section back in March, and will therefore also not be included in the Eras Tour movie.
And as for which surprise songs fans will get to see in the Eras Tour movie? The six songs she performed across those first three LA show dates are: 'I Can See You', 'Maroon', 'Our Song', 'You Are In Love', 'Death By A Thousand Cuts' and 'You're On Your Own, Kid'.
Fans have already theorised that 'Our Song' will have to be included as the surprise guitar song due to the fact that there is no section for her debut album within the main setlist, and the tour is technically meant to span her 10 eras/albums.
That leaves three options for the other surprise song, which will be one she performs on the piano: 'Maroon', 'You Are In Love' and 'You're On Your Own, Kid'.
A theory has also emerged that predicts Taylor might send different versions of the movie to different cinemas, with differing combinations of surprise songs, maintaining that element of surprise from the actual live shows.
Which ones will end up in the movie? We'll have to wait and see...
Peach PRC Paints A Self-Portrait And Answers Questions About Her Life | Portrait Mode