Taylor Swift Eras Tour prices: All ticket price information for UK and Ireland dates
17 July 2023, 11:16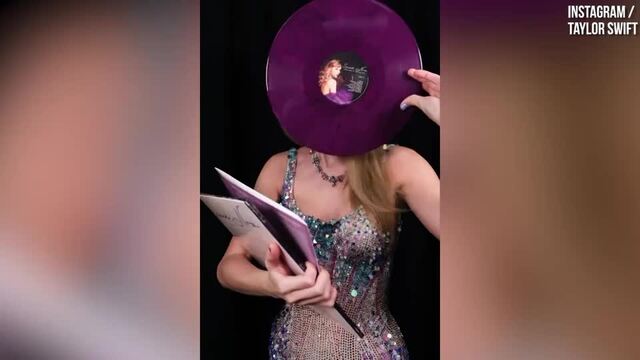 Taylor Swift teases Mine (Taylor's Version)
Here's how much Taylor Swift Eras Tour tickets cost in the UK.
It's time. Tickets for Taylor Swift's Eras Tour UK and Ireland shows are now on sale, and the stress levels are HIGH. But how much will tickets to see the superstar perform her incredible catalogue cost? Here's what you need to know...
As of Monday 10th July, ticket presales for those who took part in Taylor's Midnights presale back in October 2022 have begun. Codes have been sent, anticipation is through the roof and Ticketmaster UK is no doubt about to set another record thanks to the sheer demand.
READ MORE: Every surprise song performed on Taylor Swift's Eras Tour so far
There will not be a standard general sale for the Eras Tour in the UK and Ireland. If you didn't get a presale code, you'll have to wait and see if you've been selected to take part in the registered fan sale later this week (July 14).
For those wanting to get a head start on their planning and budgeting for The Eras Tour, here's all the ticket prices that have been confirmed so far – based on the London Wembley pricing plan.
How much are the tickets to Taylor Swift's UK Eras Tour?
See the full Eras Tour UK price list below:
Below are the prices based on the official confirmed price list for Wembley Stadium. Ticket prices for Edinburgh, Liverpool and Cardiff may be slightly different, but this is what fans can expect:
Front standing right: £175.25
Front standing left: £175.25
General Admission standing: £110.40
Level 1 and Level 5 seating: £58.65 - £194.75
The prices for the Dublin dates have not yet been confirmed. Fans will get a clearer idea of the Dublin prices when presales begin on Friday 14th July.
ERAS TOUR VIP PACKAGE PRICES (Based on London, Wembley)
It's Been A Long Time Coming Package (Seated): £662.40
Karma Is My Boyfriend Package (Front Pitch Standing - left or right): £387.40
I Remember It All Too Well Package (Seated): £332.40
Ready For It Package (GA Standing): £277.40
It's A Love Story Package (Seated): £222.40
We Never Go Out Of Style Package (Seated): £196.00
When are the Eras Tour presales for UK and Ireland dates?
You can only enter these ticket presales if you have been sent a presale code. Presale codes were sent to fans who pre-ordered Midnights from Taylor's official UK store last year. If you don't have a presale code, you will not be able to gain access to any of these presales.
Waiting rooms for each of the presales open half an hour before tickets go on sale.
Monday 10 July 2023
11AM - London, 21 June and Edinburgh, 7 June 2024
1PM - London, 15 August and Edinburgh, 8 June 2024
3PM - Edinburgh, 9 June 2024
Tuesday 11 July 2023
11AM - London, 22 June and Liverpool, 13 June 2024
1PM - London, 16 August and Liverpool, 14 June 2024
3PM - Liverpool, 15 June 2024
Wednesday 12 July 2023
11AM - London, 23 June 2024
1PM - London, 17 August 2024
3PM - Cardiff, 18 June 2024
Friday 14 July 2023
11AM - Dublin, 28 June 2024
1PM - Dublin, 29 June 2024
3PM - Dublin, 30 June 2024
When does the Eras Tour Registered Fan sale start?
Fans will be told if they have been selected for the registered fan sale on Friday July 14th. You will receive an email telling you if you have been successful or if you've been placed on the waitlist.
This is NOT a standard public general sale. This sale will only be accessible to fans who have registered and have been selected to take part. If you did not register, or have not been approved for the sale, you will not be able to buy tickets.
Monday July 17 2023
11AM - London, June 21 2024 and Edinburgh, June 7 2024
1PM - London, August 15 2024 and Edinburgh, June 8 2024
3PM - Edinburgh, June 9 2024
Tuesday July 18 2023
11AM - London, Wembley (June 22) and Liverpool, Anfield (June 13)
1PM - London, Wembley (August 16) and Liverpool, Anfield (June 14)
3PM - Liverpool, Anfield (June 15)
Wednesday July 19 2023
11AM - London, June 23 2024
1PM - London, August 17 2024
3PM - Cardiff, June 18 2024
Thursday July 20 2023
11AM - Dublin, June 28 2024
1PM - Dublin, June 29 2024
3PM - Dublin, June 30 2024
The Witcher Cast Interview Each Other | PopBuzz Meets