Taylor Swift The Eras Tour UK: How to get presale codes and tickets
17 July 2023, 11:30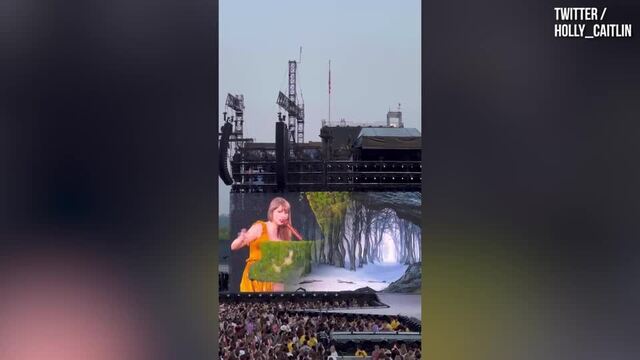 Taylor Swift explains why Cruel Summer wasn't released as a single
All the Taylor Swift presale information you need for The Eras Tour in the UK including how to register, how to get presale codes and when tickets actually go on sale.
One, two, three, let's go bitch! Taylor Swift has announced the UK and Ireland dates for The Eras Tour but is there a presale and when does the registered sale start?
On June 20, Taylor revealed that she will be touring the UK and Ireland in the summer of 2024. As it stands, the 33-year-old superstar will be playing a total of 12 stadium dates in the UK and Ireland. These include one night in Cardiff, two nights in Liverpool, two nights in Dublin, two nights in Edinburgh and a whopping five nights in London.
READ MORE: Taylor Swift's The Eras Tour UK: Tickets, prices, presale, dates, and setlist
With demand for The Eras Tour at an all-time high, it's unlikely that all fans will be able to get tickets. With that in mind, here is all the information you need to know about The Eras Tour presale codes, the registered sale and what you need to do to try and get tickets.
Is there a Taylor Swift's The Eras Tour UK presale?
When is Taylor Swift's The Eras Tour UK presale?
As Taylor promised in October 2022, anyone who pre-ordered Midnights from her official UK store will get a presale code for the UK dates of The Eras Tour. According to Taylor's official website, you will "officially be communicated with via the email supplied at checkout". You should have already received your email by now.
The UK and Ireland presale is now complete. It took place between Monday 10th July and Wednesday 12th July. If you are trying to get Taylor Swift tickets now, the only option is via a registered sale.
When do Taylor Swift's The Eras Tour UK tickets go on general sale?
There is no general sale for Taylor Swift's The Eras Tour UK and Ireland tickets. Instead, there is a registered sale and to access those tickets you will have had to register. You could register for the chance to buy them via Taylor's website. Registration closed on Thursday June 22nd at 11:59PM.
When does the Eras Tour Registered Fan sale start?
Fans were told if they were selected for the registered fan sale on Friday July 14th. If you registered before the deadline, you will have received an email telling you if you were successful or if you have been placed on the waitlist.
This is NOT a standard public general sale. This sale will only be accessible to fans who have registered and have been selected to take part. If you have not been approved for the sale, you will not be able to buy tickets.
The dates and times for the registered sale are as follows:
Monday July 17 2023
11AM - London, June 21 2024 and Edinburgh, June 7 2024
1PM - London, August 15 2024 and Edinburgh, June 8 2024
3PM - Edinburgh, June 9 2024
Tuesday July 18 2023
11AM - London, June 22 2024 and Liverpool, June 13 2024
1PM - London, August 16 2024 and Liverpool, June 14 2024
3PM - Liverpool June 15 2024
Wednesday July 19 2023
11AM - London, June 23 2024
1PM - London, August 17 2024
3PM - Cardiff, June 18 2024
Thursday July 20 2023
11AM - Dublin, June 28 2024
1PM - Dublin, June 29 2024
3PM - Dublin, June 30 2024
If your registration is successful, you'll receive an email confirming your registration. You'll then receive an email on July 5 2023 confirming next steps.
Read more about Taylor Swift's Eras Tour here:
Niall Horan Breaks Down Every Song On 'The Show' | Making The Album