Taylor Swift's The Eras Tour UK: Tickets, prices, presale, setlist and possible dates
28 March 2023, 17:35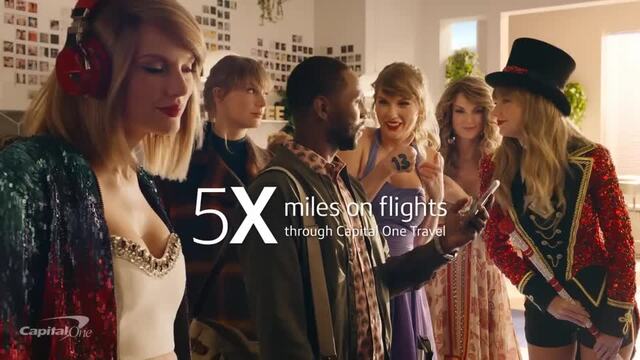 Taylor Swift teams up with Captial One for The Eras tour presale
Is Taylor Swift coming to the UK? Everything you need to know about the UK leg of Taylor Swift's The Eras Tour.
Ever since Taylor Swift announced The Eras Tour, British fans have been wondering one thing: Is the tour coming to the UK?
On March 17th, Taylor Swift launched her highly anticipated The Eras Tour to widespread critical acclaim. The stadium tour is Taylor's first time on the road since 2018 and it's her first concert experience since she released Lover, folklore, evermore, Fearless (Taylor's Version), Red (Taylor's Version) and Midnights. With 44 songs it's also her longest tour setlist to date.
Demand for The Eras Tour was so high that Ticketmaster crashed during the presale for the US dates with over 3.5 million people attempting to buy tickets. In the end, 2.4 million tickets were sold breaking the all-time record for the most tickets sold for a tour in a single day. As a result, it's no surprise that many fans in the UK are also desperate to see Taylor.
READ MORE: Every surprise song performed on Taylor Swift's Eras Tour
However, as it stands, Taylor is yet to put any tickets for a UK leg of The Eras Tour on sale. With that in mind, here's what she's revealed so far about the rest of The Eras Tour, including UK tickets, dates, prices, presale information and more.
Is Taylor Swift going on tour in the UK in 2023?
Has Taylor Swift announced a UK tour?
As it stands, Taylor Swift is yet to announce any UK or European dates for The Eras Tour. However, there's nothing to worry about. Back in 2022 when Taylor released Midnights, she offered all fans a pre-sale code to UK dates of her tour when they pre-ordered the Midnights album from her official UK store. In other words, UK tour dates will definitely be happening.
Make sure to subscribe to Taylor's newsletter and bookmark this page for any further updates.
When is The Eras Tour coming to the UK? What are the dates?
There's no word just yet on when Taylor will be bringing The Eras Tour to the UK but fans are speculating that she will come to Europe in the spring/summer of 2024. The US leg of The Eras Tour ends on August 9th 2023 and reports have surfaced that Taylor will be heading to stadiums in Australia afterwards.
Given that The Eras Tour is a stadium affair, Taylor will likely be waiting until the weather is good enough in the UK to bring the spectacle across the pond.
How to find a Taylor Swift The Eras Tour UK pre-sale code
As mentioned above, Taylor promised that anyone who pre-ordered Midnights from her official UK store would get a pre-sale code for the UK dates of The Eras Tour. Given that the UK leg of the tour is still yet to be announced, Taylor has not sent out any pre-sale codes for the UK dates at the moment but fans should receive them nearer the time tickets go on sale.
It's also possible that Taylor will offer fans other ways to access a pre-sale either through O2 Priority, Live Nation or her own fan newsletter. We'll let you know if/when she reveals anything else.
Taylor Swift UK tour locations: What cities will Taylor play in?
Again, Taylor is yet to reveal anything concrete as to where she will be performing in the UK as part of the Eras tour. With the demand to see her higher than ever though, our bet is that Taylor will aim to perform in as many major stadiums/cities as possible.
For the Reputation Stadium Tour, Taylor performed two nights in London and two nights in Manchester. (She also performed two nights in Dublin, Ireland on top of those two UK dates.)
For The Eras Tour, it's possible that Taylor will also include popular stadium venues such as Glasgow, Cardiff, Edinburgh and/or Sunderland.
There are also rumours that Taylor will play Glastonbury in 2024 after her headline slot was cancelled in 2020 due to the coronavirus pandemic.
As for how many shows Taylor will play, there's a high chance that she could be set to break records.
How much will the tickets to Taylor Swift's tour be in the UK?
There's no information on UK prices for The Eras Tour tickets just yet. However, it's likely that they won't be too dissimilar to US prices. For comparison, tickets to see Taylor in the US range from $49 up to $449 depending on where people stand or sit. There are also VIP packages that range between $199 and $899.
Will Taylor Swift's The Eras Tour setlist be the same in the UK?
Historically, Taylor rarely edits her setlists much from country to country. Taylor currently performs two surprise songs on The Eras Tour each night, while the setlist remains the same. However, given that The Eras Tour is already Taylor's biggest tour to date, and will likely have significant gaps between legs, anything is possible.
As it stands, Taylor Swift and Speak Now are pretty absent from The Eras Tour setlist but it doesn't have to stay that way. There are fan theories that Taylor will release Speak Now (Taylor's Version) at some point this year. If so, it's possible that Taylor will add more Speak Now songs to the setlist once her version is released.
The setlist could possibly have some changes by the time it reaches the UK.
What do you think? Will you be getting tickets to see Taylor in the UK?
Read more Taylor Swift news here:
ATEEZ Spill Their Secrets In 'The Tower Of Truth' | PopBuzz Meets