Taylor Swift hints she sent ex Joe Jonas a baby gift on new song Invisible String
27 July 2020, 14:42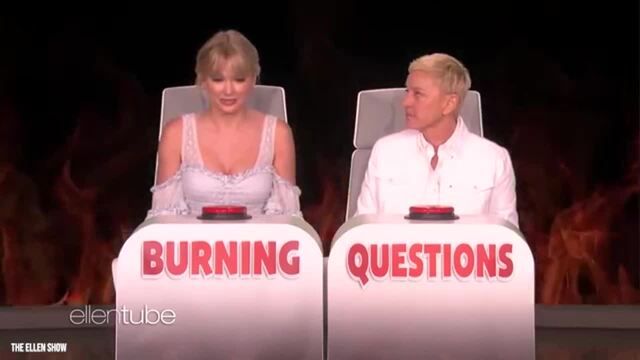 Taylor Swift apologises for putting Joe Jonas on blast after their split
In the lyrics to 'Invisible String' from Taylor Swift's new album Folklore, fans think they've worked out that she sent a baby gift to ex-boyfriend Joe Jonas and his wife, Sophie Turner.
Taylor Swift has saved 2020 with her surprise album, 'Folklore', and of course, we're now spending the rest of the year de-bunking theories about what those melancholy lyrics mean.
Everyone is already behind the conspiracy that Taylor may have dropped the name of Blake Lively and Ryan Reynolds' new baby in 'Betty', and fans have quickly come up with yet another plausible story involving her ex-boyfriend Joe Jonas.
'Invisible String' seems to be about fate bringing her to be with her current boyfriend Joe Alwyn, but one lyric in particular has got people wondering if she's finally become good friends with the Jonas Brother who is expecting a baby with Game of Thrones star Sophie Turner in the coming weeks.
READ MORE: Taylor Swift created a fake band with her brother to stop Scooter Braun making money from her music
"Cold was the steel of my axe to grind / For the boys who broke my heart / Now I send their babies presents," she sings on the eleventh track. Broke her heart? Babies? Sounds all too familiar to us.
Despite only dating for three months back in 2008, Taylor has continued to write songs about Joe across several albums, and stans are going wild that she's finally put the past behind her, and becoming an even better version of herself - especially after she apologised for putting him on blast after their split. We'd probably never forgive him for ending it with a phone call either.
anyone else been wondering since midnight what presents taylor sent joe and sophie for their baby?

— ✰ b ✰ (@KlNDADIRTYFACE) July 25, 2020
wow taylor is really out here sending joe jonas and sophie baby presents. GROWTH!!!

— Katie Rankin (@Kranks) July 24, 2020
Man, taylor swift going from "last kiss" to "now I send their babies presents" about Joe Jonas is what I call growing up

— V (@vartikasays) July 24, 2020
taylor swifts still writing lyrics about joe jonas 12 years later makes me feel at home

— Ashley🦋 (@swiftlyxjonas) July 24, 2020
Swifties believe that 'Forever & Always', 'Better Than Revenge', and 'Last Kiss' are all about her relationship with Joe, so it's definitely possible that this is a more grown-up follow-on from their teenage romance.
The ball is in your court Joe. Drop a pic of those gifts.
Here are the lyrics in full:
Green was the color of the grass
Where I used to read at Centennial Park
I used to think I would meet somebody there
Teal was the color of your shirt
When you were sixteen at the yogurt shop
You used to work at to make a little money

Time, curious time
Gave me no compasses, gave me no signs
Were there clues I didn't see?
And isn't it just so pretty to think
All along there was some
Invisible string
Tying you to me?
Ooh-ooh-ooh-ooh

Bad was the blood of the song in the cab
On your first trip to LA
You ate at my favorite spot for dinner
Bold was the waitress on our three-year trip
Getting lunch down by the Lakes
She said I looked like an American singer


Time, mystical time
Cutting me open, then healing me fine
Were there clues I didn't see?
And isn't it just so pretty to think
All along there was some
Invisible string
Tying you to me?
Ooh-ooh-ooh-ooh


A string that pulled me
Out of all the wrong arms, right into that dive bar
Something wrapped all of my past mistakes in barbed wire
Chains around my demons
Wool to brave the seasons
One single thread of gold
Tied me to you

Cold was the steel of my axe to grind
For the boys who broke my heart
Now I send their babies presents
Gold was the color of the leaves
When I showed you around Centennial Park
Hell was the journey but it brought me heaven

Time, wondrous time
Gave me the blues and then purple-pink skies
And it's cool
Baby, with me
And isn't it just so pretty to think
All along there was some
Invisible string
Tying you to me?
Ooh-ooh-ooh-ooh
Me
Ooh-ooh-ooh-ooh

READ MORE: Jonas Brothers' Hesitate lyrics are a "love letter" Joe wrote for Sophie Turner