Taylor Swift alludes to Joe Alwyn split with speech to fans on the Eras Tour
14 April 2023, 16:54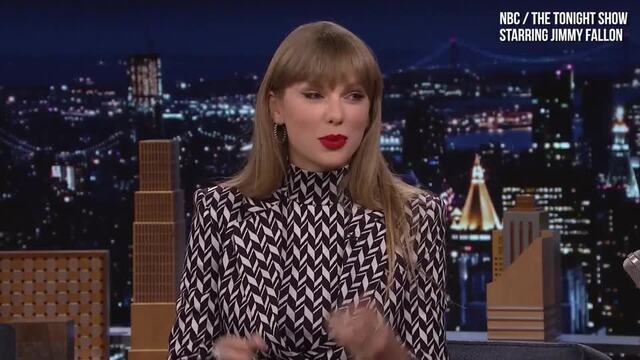 Taylor Swift reveals how Dylan O'Brien ended up playing drums on Midnights
"Some of these songs are about my life, some of these songs are about fictional characters that I created..."
Taylor Swift fans think she has subtly responded to the conversations surrounding her reported breakup with Joe Alwyn and the songs she has written about him.
In case you missed the news, People Magazine reported that Taylor and Joe had broken up after six years together. Conversation then quickly turned into people mourning all the songs she had written about their relationship, as they began to wonder whether she would make any changes to the Eras Tour setlist as a result.
A few weeks ago, Taylor removed the Joe-inspired 'invisible string' from the setlist and replaced it with 'the 1'. Fans theorised that it may have had something to do with their split.
With the Tampa show (April 13) being her first live performance since the world learned of their breakup, fans and followers have been waiting to see if Taylor would address anything.
Here's what she said on stage before performing 'Lover' on the night, and her reminder to fans regarding her lyrics about her past relationships.
As she does during every show on the Eras Tour, Taylor took the opportunity to have a little chat with the fans in the audience just before performing 'Lover'.
While her opening speech is pretty much the same every night, fans couldn't help but read a little more into it, particularly given the social media attention that her relationship – and the love songs some fans think have now been 'ruined' – is currently receiving.
"Some of these songs are about my life, some of these songs are about fictional characters that I created," Taylor said. "But my hope in all of this at the end of the day, these songs will be songs that you think are about your life and that you feel genuinely are about your own life."
Then, repeating what she says before playing 'Lover' each night on the tour, she said: "And the song we're about to play next? Well, it's just a love song, ya know!"
Taylor's comments also come shortly after people bombarded Millie Bobby Brown's recent engagement announcement after she used lyrics from 'Lover' to caption her post.
In both the comment section and in several viral tweets, followers popped up to point out that Taylor had (reportedly) just broken up with the man she had written that song about, and, for some weird reason, questioned why Millie had chosen those specific lyrics given the timing. Some even said Millie should have 'read the room'.
Taylor liked Millie's Instagram post, clearly appreciating of the use of one of her most romantic lyrics to date in relation to Millie and her boyfriend Jake's relationship.
As Taylor said, she may have written that song about her relationship, but now that it's out in the world for fans to enjoy and relate to, it's no longer about her or who she may have written it about.
People on TikTok couldn't get enough of her statement, and agreed that whatever is happening in Taylor's personal and private life, fans shouldn't go out of their way to read into any 'hidden meanings' behind the songs she decides to perform.
One video with the caption, "i think she wants us to mind our business 😭❤️," has now gone viral on the platform with over 500,000 views.
One user wrote: "Basically, please when you think of lover, don't think of hers, think of yours. When you're sad remembering it all too well, it's your story, not hers."
Another popular comment, referring to all the viral tweets mourning the 'Joe Alwyn songs', read: "I feel like she's upset about the amount of people saying some of her songs are "ruined" bc of the breakup."
A third simply reminded people that Taylor has been saying the same thing about her songs for years: "She's been saying this for years too!!! 'I want people to picture their ex boyfriend, NOT mine' ppl don't LIIISTEN."
Read more Taylor Swift Eras Tour news here:
Sabrina Carpenter Breaks Down Her Favourite Lyrics | PopBuzz Meets