Lana Del Rey is basically silent in Taylor Swift's Snow on the Beach and the memes are brutal
21 October 2022, 12:00 | Updated: 21 October 2022, 12:39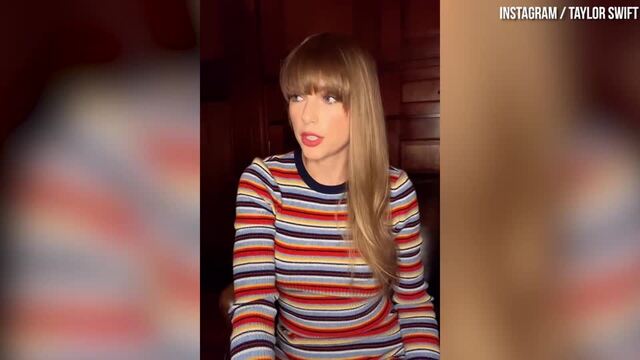 Taylor Swift praises Lana Del Rey as she talks about their collaboration track on new album
Everyone is making the same joke about Taylor Swift and Lana Del Rey's 'Snow on the Beach'.
The wait is over. Taylor Swift and Lana Del Rey's highly-anticipated duet 'Snow on the Beach' is here... but there's a catch.
As soon as Taylor Swift revealed that she and Lana Del Rey had collaborated on a song called 'Snow on the Beach', people were excited to hear their voices together. Taylor has previously called Lana the "the most influential artist in pop" and she teased the song by praising Lana and thanking her for being so "generous" and joining her on 'Snow on the Beach'.
As a result, expectations for the song were sky-high and, as expected, it's stunning. The song is an evocative ballad about falling in love. However, fans were surprised to learn that, like Taylor's previous female collaborators (Colbie Caillat, The Chicks, Maren Morris and Haim), Lana only has backing vocals. In fact, she sings less than 20 words in total.
READ MORE: Taylor Swift explains the soul-crushing meaning behind her Anti-Hero lyrics
Naturally, the whole incident has inspired thousands of hilarious memes with Lana and Taylor fans making the same joke.
Why does Lana Del Rey only sing backing vocals on 'Snow on the Beach'?
As it stands, Taylor is yet to explain why Lana only sings backing vocals on 'Snow on the Beach'. It's likely that the decision came down to the fact that Lana sounds almost like a ghost on the song, repeating Taylor's lines and giving the track a sort of haunting, dreamlike quality. Nevertheless, that hasn't stopped fans from joking about it.
With that in mind, here are just a few of the funniest Taylor and Lana memes inspired by 'Snow on the Beach'.
1) My favourite part!
2) Love this exclusive footage.
3) Were you silent or were you silenced, now that is the question?
4) Anyone else still waiting?
5) Now, why is this accurate?
6) Helppppp.
snow on the beach is so good that lana is speechless

— n¡cole 🕰 (@tisthedamnickk) October 21, 2022
7) Ah that must be it.
lana's verse had to be cut bc she thought snow on the beach was about coke

— tyler (@tyler02020202) October 21, 2022
8) I'm crying.
9) Seriously though?
10) It's easily done.
oomf said taylor gave lana the wrong address for the beach😭 😭😭😭

— dr. tushar🧣 (@reputushion) October 21, 2022
11) Well, there it is.
12) Benevolent queen.
13) We have an answer!
Lana's snow on the beach verse was on the stolen laptop omg 💔

— Mike (limited edition Rina Sawayama hat) 💿 (@mikesmicYT) October 21, 2022
Petition for Taylor to release 'Snow on the Beach (Lana's Version)'!
Sofia Wylie & Sophia Anne Caruso Pick Their Own Interview Questions | The School For Good And Evil