Taylor Swift explains the romantic meaning behind her Lavender Haze lyrics
26 January 2023, 14:09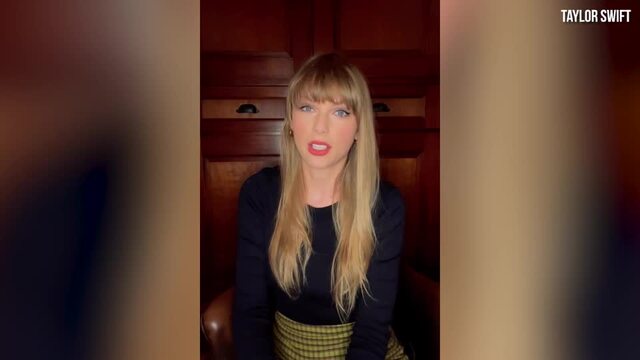 Taylor Swift explains the meaning of her Lavender Haze lyrics
Are Taylor Swift's 'Lavender Haze' lyrics about Joe Alwyn? Here's what she's said about the song.
Taylor Swift is finally releasing the music video for 'Lavender Haze'. What does it mean though and what are the lyrics about?
In 'Lavender Haze', Taylor Swift appears to sing about a lover. She sings: 'I been under scrutiny / You handled it beautifully / All this shit is new to me.' and 'I find it dizzying / They're bringing up my history / But you weren't even listening'. The lyrics hark back to 'Delicate' where Taylor sings about her boyfriend Joe Alwyn ignoring the negative press around her.
In the chorus, Taylor then adds: "I feel the lavender haze creepin' up on me / Surreal / I'm damned if I do give a damn what people say / No deal / The 1950s shit they want from me / I just wanna stay in that lavender haze."
READ MORE: Taylor Swift explains the soul-crushing meaning behind her Anti-Hero lyrics
Ahead of the release of the album, Taylor explained what 'Lavender Haze' means and if the lyrics are about Joe Alwyn?
What does Lavender Haze mean?
Taking to Instagram, Taylor posted a reel about 'Lavender Haze' in which she stated: "I happened upon the phrase "lavender haze" when I was watching Mad Men. I looked it up because I thought it sounded cool and it turns out that it's a common phrase used in the 50s where they would just describe being in love."
Taylor continued: "If you were in the lavender haze, then that meant that you were in that all-encompassing love glow and I thought that was really beautiful."
Explaining how it relates to her song, Taylor said: "I guess theoretically when you're in the lavender haze, you'll do anything to stay there and not let people bring you down off of that cloud. I think a lot of people have to deal with this now because we live in the era of social media and if the world finds out you're in love with somebody, they're gonna weight in on it."
Taylor then confirmed that the song is about Joe by adding: "Like my relationship for six years, we've had to dodge weird rumours, tabloid stuff and we just ignore it. So this song is about the act of ignoring that stuff to protect the real stuff."
No. I'm not crying. You are!
Read Taylor Swift's full 'Lavender Haze' lyrics here:
INTRO
Meet me at midnight
VERSE 1
Staring at the ceiling with you
Oh, you don't ever say too much
And you don't really read into
My melancholia
PRE-CHORUS
I been under scrutiny (Yeah, oh, yeah)
You handled it beautifully (Yeah, oh, yeah)
All this shit is new to me (Yeah, oh, yeah)
CHORUS
I feel the lavender haze creeping up on me
Surreal
I'm damned if I do give a damn what people say
No deal
The 1950s shit they want from me
I just wanna stay in that lavender haze
VERSE 2
All they keep asking me (All they keep asking me)
Is if I'm gonna be your bride
The only kinda girl they see (Only kinda girl they see)
Is a one-night or a wife
PRE-CHORUS
I find it dizzying (Yeah, oh, yeah)
They're bringing up my history (Yeah, oh, yeah)
But you weren't even listening (Yeah, oh, yeah)
CHORUS
I feel the lavender haze creepin' up on me
Surreal
I'm damned if I do give a damn what people say
No deal
The 1950s shit they want from me
I just wanna stay in that lavender haze
POST-CHORUS
That lavender haze
BRIDGE
Talk your talk and go viral
I just need this love spiral
Get it off your chest
Get it off my desk (Get it off my desk)
Talk your talk and go viral
I just need this love spiral
Get it off your chest
Get it off my desk
CHORUS
I feel the lavender haze creeping up on me
Surreal
I'm damned if I do give a damn what people say
No deal (No deal)
The 1950s shit they want from me
I just wanna stay in that lavender haze
OUTRO
Get it off your chest
Get it off my desk
The lavender haze
I just wanna stay
I just wanna stay in that lavender haze
Sofia Wylie & Sophia Anne Caruso Pick Their Own Interview Questions | The School For Good And Evil