Matty Healy Thinks Dating Taylor Swift Is Emasculating… WTF?!
18 March 2016, 11:34 | Updated: 8 May 2017, 17:09
Well that's slightly problematic, isn't it?
The 1975 are currently dominating the entire world with their killer album, and cute animal friends, and we're not sure we'll ever get of the fandom bus tbh.
In one of their latest interviews, frontman Matty Healy was asked about his supposed flirtation with Taylor Swift back in 2015, pre-Calvin. Q Magazine were DYING to know the truth about Mattaylor's past. And Matty told them.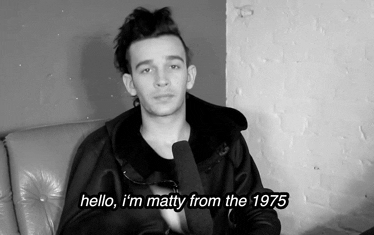 via giphy.com
I don't do anything else, right, so it doesn't leave a lot of room for me going out, or shagging someone. So the one time I did have a flirtation with a girl it ends up going everywhere.... I mean, I got on E! News and people were like, 'Who's Matt Healy?' so that was cool.

Matty Healy, Q Magazine
He goes on...
But I didn't make a big deal out of it myself. It's not really anything to talk about, because if she wasn't Taylor Swift we wouldn't be talking about her. She wasn't a big impact on my life. It's just interesting to me how interested the world is about Taylor Swift.

Matty Healy, Q Magazine
We totally get where he's coming from! BUT THAT'S WHERE HE SHOULD HAVE STOPPED.
You see, we hate to be petty about these kind of things but what Matty said next is all sorts of problematic. When asked if he had a fear of losing his own identity when he's in a relationship, Matty said...
Yeah. Absolutely. And the reason I mention that is because if I had gone out with Taylor Swift I would've been, 'F*cking hell! I am NOT being Taylor Swift's boyfriend.' You know, 'F*CK. THAT.' That's also a man thing, a de-masculinating, emasculating thing.

Matty Healy, Q Magazine
via giphy.com
Oh Matty! Make of this what you will but from a female's perspective, it's not only hella rude to call dating a successful woman 'emasculating', it's also kinda cute to see how men react to being labelled as someone's 'boyfriend'. ANNOYING ISN'T IT?!
ANYWAY... back to the music. We've all had enough of this pettiness.