Taylor Swift new album: TS11 release date, theories, tracklist and news
28 September 2023, 17:37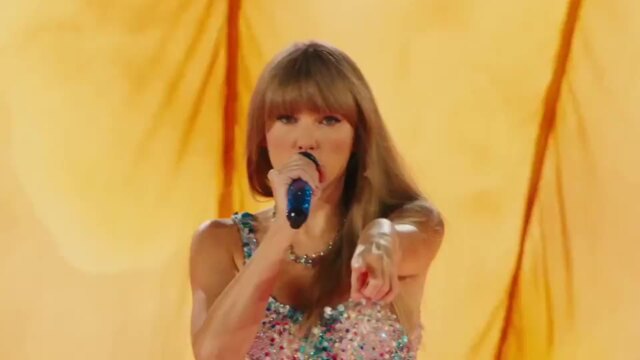 Taylor Swift announces The Eras Tour concert film with trailer
Is Taylor Swift releasing a double album? What about Karma? Here's everything we know so far about her 11th album.
As a Swiftie you always have to stay alert for new Taylor Swift music. One day you'll be minding your own business listening to Lover, the next Taylor will announce that she's releasing Folklore in mere hours. Oh and just months later she'll bless us with another album called Evermore. Has Taylor recorded TS11 yet though and when does the album come out?
Taylor may still be releasing her rerecorded Taylor's Version albums but that doesn't mean new music is out of the question. After Fearless (Taylor's Version) and Red (Taylor's Version), Taylor surprised fans by releasing Midnights. Since then, she's dropped Speak Now (Taylor's Version) and 1989 (Taylor's Version) is on the way...but what about TS11?
Over the course of the past year, Taylor has dropped several hints that she's working on new music. Here's everything we know about her new album so far including the release date, tracklist, double album theories and much more.
READ MORE: Every surprise song performed on Taylor Swift's Eras Tour so far
Is Taylor Swift releasing a new album?
With 1989 (Taylor's Version) currently scheduled to come out on October 27th 2023, it seems unlikely that Taylor will release TS11 before that. However, fans will already be well aware that, when she's not on tour, Taylor's been pictured in the studio in New York City almost every month this year. Could she be working on new music as well as her re-recordings?
If that weren't enough, Taylor also teased at her Eras Tour on August 4th in California that she intends to "make and release as many albums as humanly possible". Sounds like something that someone working on new music might say?
After Folklore, Evermore and Midnights, anything is possible.
When will Taylor Swift release TS11?
Again there's no official word on Taylor Swift's official TS11 release date just yet. However, a lot's happened in Taylor's life since Midnights and she may be keen to release music about it soon. Taylor's six-year relationship with Joe Alwyn ended, and she dated and broke up with Matty Healy shortly after. She's also been linked to NFL star Travis Kelce in recent months.
Whether or not Taylor wants to write about these relationships is yet to be seen. It's also unclear whether she'll want to release new music with the Eras Tour still going but we'll let you know when she reveals anything concrete.
Is Taylor Swift releasing a double album?
One huge theory among Swifties right now is that 1989 (Taylor's Version) might be a double album. Several people on TikTok have questioned why the tracklist for 1989 (Taylor's Version) has no collabs when the vault tracks on Fearless (TV), Red (TV) and Speak Now (TV) all had very special collabs with people Taylor has worked with or admired in the past.
There were also several easter eggs ahead of 1989 (Taylor's Version) suggesting that Taylor might have collabs with the likes of Nicki Minaj, the Jonas Brothers, Katy Perry, Selena Gomez and Harry Styles. None of those collabs have materialised but what if the double album is all collabs?
People have also spotted that '1989' was written twice in the subway scene in Taylor's 'The Man' music video: once in white and once in black. Could she have been teasing a double album all the way back then?
If the double album theory is true, it's currently unclear if the collabs will be on brand new songs or duet versions of all the 1989 songs. Could 'Style (feat. Harry Styles)' be real?
1989 TV double album??? The double album could be the one with all the collabs? This video points out the white 1979 and dark blue/black 1989 written on the wall in the man music video. I think it would be so cool to have a double album. I know people are happy there's no… pic.twitter.com/ez82QglJNI

— SwiftTea (@Swiftielover06) September 21, 2023
Is Taylor Swift releasing an album called Karma?
Another longterm theory among Swifties is that Taylor recorded an album called Karma before 1989. It's believed that Taylor chose to scrap Karma in favour of Reputation but fans think she might release Karma alongside her rerecorded albums. If true, could it be possible that it would be part of a 1989 (Taylor's Version) double album or a completely separate release to come?
If Karma the album does exist, it would technically be TS11 if it came out but there's still nothing official to say that it's even real.
The main theory stemmed from the word "Karma" appearing in the centre of all of Taylor's pre-Lover album titles in the subway scene of 'The Man' video. Coincidence or an easter egg? We'll let you be the judge.
When Taylor Swift announces Karma, the lost album, I will be in need of several wellness checks

— magdacious (@magdaciousss) September 22, 2023
What is Taylor Swift's TS11 tracklist?
Taylor has remained tightlipped about who she's been in the studio with lately so there's no knowledge on who will appear on the TS11 writing credits and what songs will feature on the tracklist.
Since 1989 in 2014, Jack Antonoff has played a significant role in all of Taylor's albums so it's possible that he'll be part of it whenever she starts to make it.
However, there's also a chance that Taylor will look to work with entirely new collaborators on TS11. Bookmark this page and we'll let you know as soon as we know more.
Ashnikko Breaks Down 'Weedkiller' Track By Track | Making The Album