Taylor Swift fans are losing it over the Reputation (Taylor's Version) November 10th theory
9 November 2023, 15:06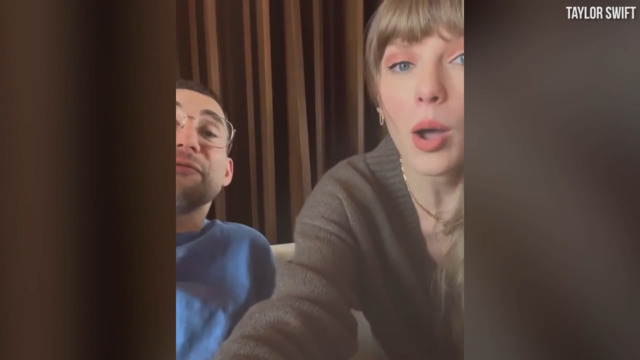 Taylor Swift reacts to Cruel Summer going Number 1
Swifties have theorised that Taylor could make a big announcement on November 10th. Here's how the whole theory started.
Here we go again, clown shoes at the ready people! It's theory time! The Swifties have come up with another theory about the release date of Taylor Swift's next re-recording and according to them, it could be happening much, much sooner than you think.
We know, we know... 1989 (Taylor's Version) has just been released, but based on the latest theories and easter eggs, fans are convinced that Taylor has something up her sleeve for November 10th that might have something to do with Reputation (Taylor's Version).
While she hasn't explicitly confirmed it, fans are pretty much 100% convinced that Rep (TV) will be Taylor's next re-recording. Taylor has long been dropping easter eggs for the album, has already teased new versions of 'Look What You Made Me Do' and 'Delicate', and is sending out black confetti in merch packages.
Now, thanks to an apparent clue hinted at in the artwork for 1989 (TV), the latest Rep (TV) theory is taking over the fandom.
READ MORE: When does Reputation (Taylor's Version) come out? Here's what Taylor Swift has teased so far
The theory began after Taylor unleashed the 1989 (TV) vault. Amongst all the anagrams was a series of 'shiny' letters that, when rearranged, spelled out a sentence. Some fans deciphered the letters and found out it spelled "A BIG HINT IN STORE GUYS", while others unscrambled it to read: "YOUR BIGGEST HINT IN A S".
Fans immediately flocked to Taylor's merch store and discovered that the 'S' at the end of 'Taylor's Version' on the album title bore a strong resemblance to a snake. The theory then expanded, with fans clocking that the 'ION' could also mean '10 N' for 10th November.
Coincidentally enough, November 10th was the day that Reputation was released back in 2017.
Could it just simply be another easter egg referring to Reputation as the next re-recording? Or is there more to it...
The second part of the theory brings Midnight's 'Glitch' back into play. Swifties have been fixated on the glitch that Taylor referred to in a TikTok back in 2022, hinting at the release of 1989 (Taylor's Version).
Throughout the 1989 (TV) era, there's been a couple of instances where Taylor has mixed the signature light blues of the era with blacks. She's worn alternating black and blue outfits in public, and fans recalled that her website kept glitching from light blue to black.
Fans have come up with two theories for this: One is that 1989 (TV) might be a secret double album (more on that wild theory here) and the other is that Rep (TV) is coming very soon.
In one viral TikTok discussing the theory, Swiftie @notalyssasue also pointed out that in 'Glitch', Taylor sings "it's been 2190 days of our love blackout." The TikTok goes on to recall that Taylor blacked out her entire social media "until randomly coming back one day" to tease and announce Reputation.
The numbers add up, too: There are 2190 days (6 years) between November 10th 2017 and November 9th 2023. And there's 13 days between the release of 1989 (Taylor's Version) and November 9th.
Over the past few years, Swifties have now become accustomed to Taylor announcing new surprise drops the day before they arrive at midnight. Taylor just so happens to return to the Eras Tour stage on November 9th in Argentina, and fans are of course sweating over what might happen.
So, how likely is a Reputation (Taylor's Version) surprise announcement to happen? With 1989 (Taylor's Version) doing exceptionally well in the charts, it seems unlikely that Taylor would want to draw attention away from that incredible success by announcing her next one so soon. But you never know!
As for the surprise drop theory? While it would be absolutely wild, the all important vinyl orders and pre-sales might put a spanner in the works there, too.
Ultimately, we'll have to wait and see! Taylor will be back on stage on November 9th so fans will no doubt be locked into all the livestreams to see if she announces anything. Clown shoes at the ready, everyone!
Madison Beer Explains Every Song On 'Silence Between Songs' | Making The Album