Taylor Swift fans are just realising they've been singing 'Style' wrong this whole time
14 November 2023, 12:40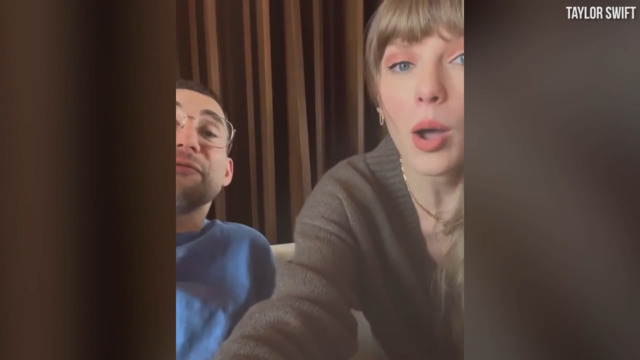 Taylor Swift reacts to Cruel Summer going Number 1
'Style' is one of Taylor Swift's most well known songs, but even some of the Swifties have been singing the lyrics wrong this whole time.
From the iconic "Starbucks lovers" from 'Blank Space' to the more recent "He looks so pretty like the devil" from 'Cruel Summer', Swifties have confessed to mishearing countless Taylor Swift lyrics over the years.
Now, with the release of 1989 (Taylor's Version), another classic misheard lyric from 'Style' has been resurfaced and is currently going viral on TikTok – and people cannot believe that they've been singing the lyrics wrong this whole time.
For the Swifties amongst us who have sung along to the pop masterpiece with the lyrics in hand, you'll know that Taylor sings "Takes me home / Lights are off / He's taking off his coat" in the second verse.
However, some people who have either never looked at the lyrics, or those who are new to Taylor's music, thought the lyric was much, much spicier than that.
The viral clip, shared by TikTok user @kimpossiblyawkward, has over 775,000 views and is full of people losing their minds over the lyrics they've been singing wrong this whole time.
"YOU'RE TELLING ME IT'S 'he's taking off his COAT' COAT! AND NOT CLOTHES!!!! I'VE BEEN SINGING CLOTHES FOR NINE MF YEARS AND IT'S COAT WTFWTFWTF," the on-screen caption reads. Yep, it's "Coat" not "Clothes"... and in the comments, it's pure chaos.
"WHAT DO YOU MEAN ITS NOT "LIKES IT ROUGH, HES TAKING OFF HIS CLOTHES," one user replied. Another added: "but why would he take off his coat in the dark? I've always thought it was clothes too!"
"Up until about 6 months ago, I thought the lyrics were 'likes it rough, he's taking off his clothes'," a third added.
On the flip side, there's plenty of people replying to the TikTok wondering how the hell they even heard "clothes" when Taylor says "Coat" so clearly on both versions of the song.
One user wrote: "'Lights are off, he's taking off his coat' AM I THE ONLY ONE WHO'S HEARD IT CORRECTLY SINCE 2014?"
"U hear the hard T at the end of the word so idk how u thought it was clothes. I feel like I'm the only one who reads the lyrics inside the CD," another added.
It's not the only misheard lyric from 'Style' to have done the rounds over the years either. For yeaaaars, some fans have thought Taylor was singing "Fake interview" instead of "Fade into view / It's been a while since I have even heard from you".
Time to start reading those lyric booklets, Swifties!
Read more Taylor Swift new here:
Madison Beer Explains Every Song On 'Silence Between Songs' | Making The Album