People Are Sending Death Threats To Taylor Swift's BFF After She Posts HUGE Twitter Rant
19 July 2016, 12:06 | Updated: 8 May 2017, 17:09
She dragged a pretty famous innocent party into the drama too...
Ladies and gentlemen, Taylor Swift's BFF and subject of her song "Fifteen", Abigail Anderson has entered the ring. Swifty's ride or die took to Twitter yesterday to share her thoughts on the ongoing pop culture nightmare.
In case you missed it (we're not sure how you did but ok...) Taylor managed to get herself into a spot of bother with notoriously savvy LA-based businesswoman Kim Kardashian West and her husband, who is like a musician or something. On Monday, Kim posted a series of videos to Snapchat "exposing" Taylor for lying about her knowledge of the lyrics on Kanye West's "Famous".
CBA / via giphy.com
Long story short, Taylor's game plan backfired and resulted in the majority of the internet "siding" with Kim. Feeling the need to jump to her BFF's defence, Abigail aired her feelings to the internet yesterday - in one long winded, passive aggressive rant at Kanye West... and his 3 year old daughter.
She began the thread by tweeting: "Lord, hear my prayers… I pray God helps your daughter understand, that despite how many times she'll hear daddy reference all women as 'bitches,' she isn't one."
She then continued: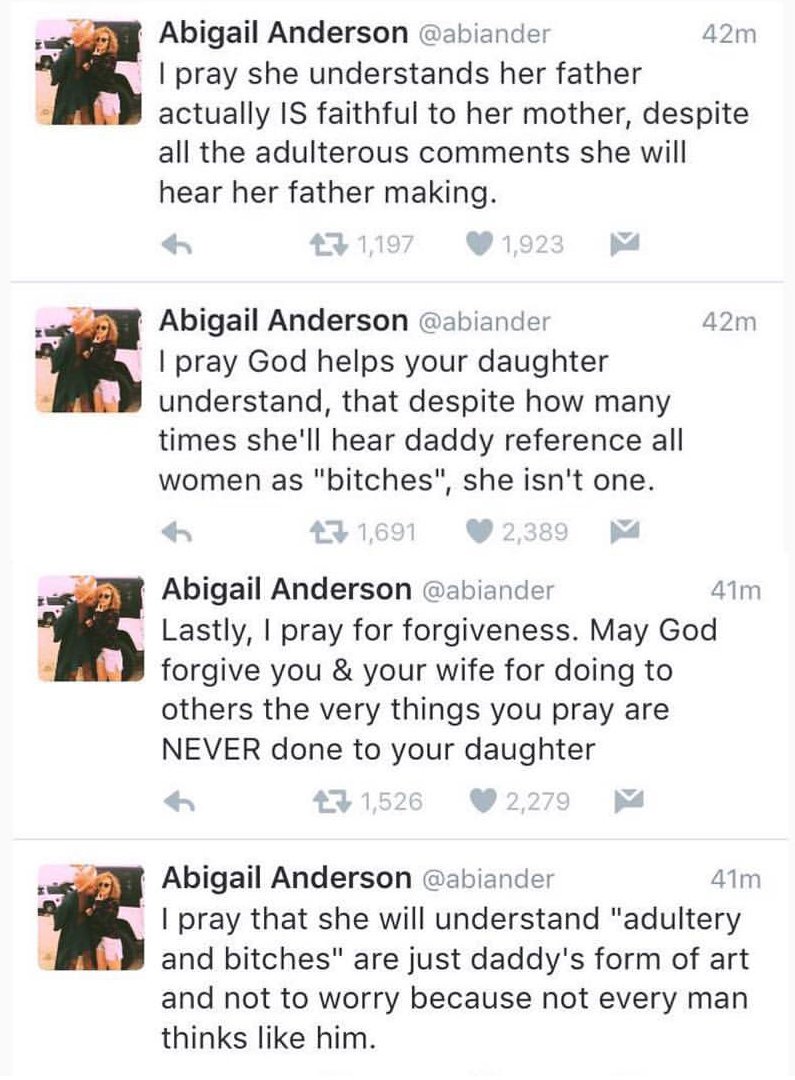 @youthistays / via twitter.com


While many of her followers were impressed with the way she stood up for Taylor, many were APPALLED that she felt the need to widen the argument to include the heir to the Kardashian-West throne, North West.
The heat from people who were still looking for the next #KimExposedTaylor after party was so bad, she ended up deleting the tweets because she started receiving death threats.
For the record, I usually delete my tweets once the death threats start rolling in...nothing more or less than that. #MovingOn

— Abigail Anderson (@abiander) July 18, 2016
Here's a few of the direct replies she received in response to her tweets:
@abiander no one has sympathy for u stop playing the VICTIM just like Taylor. You INVOLVED A BABY what kind of repulsive human being R u?

— Romeo (@CaliforniaRomeo) July 18, 2016
Y'all know Klapback Kimmie don't play about her kids. U next fam @abiander

— Myleeza (@MyleezaKardash) July 19, 2016
@abiander don't bring a 3 year old child into it then. You obviously had nothing else to say but we all know Taylor acts like a little child

— KhloMoney (@khloekuniverse_) July 19, 2016
@abiander So you're basically pathetic. If you received death threats you'll keep receiving them even though you delete your tweets

— Mia Wallace (@psychxwild) July 19, 2016
WELL THEN! Do you think Abigail was out of line for bringing North West into the argument, or was she right to express her thoughts on the matter?
via giphy.com