14 HILARIOUS Reactions To Taylor Swift Being Caught In The Lie Of The Century
18 July 2016, 11:58 | Updated: 8 May 2017, 17:09
None of this would have happened if they had given Beyonce the award for Best Video...
While you were sleeping, something happened on Twitter. Kim Kardashian managed to break the internet with her clothes ON.
After months and months of denying she knew about Kanye West's ~slightly~ misogynistic lyric on his song "Famous", Taylor Swift was last night (17/6/16) 'exposed' by Kim Kardashian by means of a 5 minute Snapchat story confirming that Kanye DID ask for Taylor's permission before he released the song. You can read the entire timeline of events in this single tweet.
Soon after Kim K served the receipts, #KimExposedTaylorParty began trending on Twitter and because we like to keep you updated with the biggest stories in music and online, here are some of the best:
1) "Bad Blood 2: Even Badder Blood" is coming.
2) Please, not another Battle of Hogwarts... PLEASE.
3) RUH-OH! SHHHRAGGY!
4) We wish we could bake a cake made of rainbows and smiles...
OMFG I CAN'T #KimExposedTaylorParty pic.twitter.com/5SXNJG2uQu

— 19 (@rockbiebr) July 18, 2016
5) #BreakTheInternet
"That moment when Kim breaks the Internet with her clothes on" #KimExposedTaylorParty

— jeejay (@CaliforniaOLLG) July 18, 2016
6) MOM!
Kim during that phone call between Kanye and Taylor #KimExposedTaylorParty pic.twitter.com/ZIKxpntIIB

— jeejay (@CaliforniaOLLG) July 18, 2016
7) WHO LIT THE WILDFIRE?!
I'm just treating this whole Kim / Taylor thing like it's an awesome @GameofThrones twist. pic.twitter.com/yr9iqof7W7

— Eli Roth (@eliroth) July 18, 2016
8) So, when can we expect Kim's debut on CSI: EXPOSED?
i cant believe @KimKardashian just won the pulitzer prize for investigative journalism

— Matt Bellassai (@MattBellassai) July 18, 2016
9) LOL
No idea what this #KimExposedTaylorParty hashtag is, but just came across this on Facebook. pic.twitter.com/4S1CNODxcy

— Nigel Britto (@NigelBritto) July 18, 2016
10) Damn.
11) We're taking all of these with a grain of salt but...
Taylor when she saw Kim's snap story pic.twitter.com/XIGe0XOnxd

— #1 most annoying (@mynameischapman) July 18, 2016
12) Tru.
Kim Kardashian holding the deadliest weapon of all time pic.twitter.com/ayLu7vNYWl

— $am $pears™ (@toxickilos) July 18, 2016
13) Yikes!
14) IMMA LET YOU FINISH KIM... BUT BEYONCE STARTED THE BEST MESS OF ALL TIME.
None of this would be happening if MTV had just given Beyoncé the VMA. pic.twitter.com/nAaA6MJGdr

— Kingsley (@kingsleyyy) July 18, 2016
Well, damn. Can't we all just be friends and start worrying about the more pressing matters in the world rn?!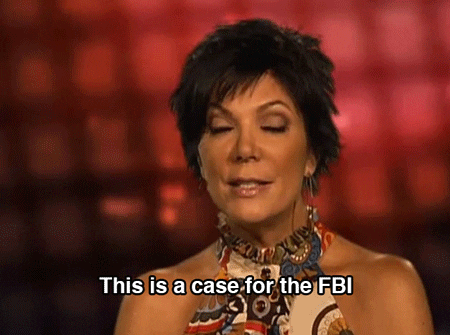 via giphy.com