Taylor Swift's Music Videos Are Now More Popular Than Your Fave TV Shows
16 March 2016, 15:32 | Updated: 8 May 2017, 17:09
There's literally no stopping her.
MUSIC VIDEOS ARE NOT DEAD! WE REPEAT, MUSIC VIDEOS ARE NOT DEAD!
According to a Nielsen report commissioned by Vevo, research and ratings show that music videos from popular artists are continually gaining equal if not HIGHER ratings than your favourite network TV Shows. (In case you don't know, the Nielsen rating is an audience measurement system that incites fear into our hearts as they keep reminding us of how badly our favourite TV shows are flopping in the ratings. Rude.)


The main focus of the report was good ol' Taylor Swift - serial music video slayer and supporter of promoting an album the old fashioned way.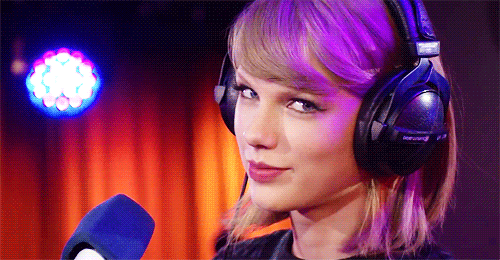 via giphy.com
Her catalog of visually stunning and probably obscenely expensive music videos had a bigger audience than all but one network TV show during the week that "Bad Blood" was released in 2015. Over the course of seven days, 18 million U.S. viewers tuned into her videos. The only TV show that topped those ratings was NCIS: Los Angeles.
Drake and Rihanna also featured in the ratings report. In the seven days following Drake's "Hotline Bling" release, his videos were watched by 6m people. And the same can be said of Rihanna after the release of "Bitch Better Have My Money".
via giphy.com
OBVIOUSLY... music videos and TV shows are not in the same league when it comes to head to head ratings but the report highlighted a few important points about the current state of the music video industry and we gotta discuss 'em.
Mainstream media can't ignore YouTube any longer.
Instead of waiting for Taylor's latest video release at whatever award show she's attending that week, it's now much easier and more common to access a video release, and the back catalogue, in the back of an Uber when it drops online. The audience is there for the taking, y'all!
It's lowkey proof that streaming service exclusives are dumb.
Beyonce and Nicki Minaj's HOTLY ANTICIPATED music video for Feeling Myself was released exclusively on TIDAL and it did not go down well - if casual audiences have to go to extreme lengths to catch a 3 minute video shot on an iPhone, then they're not gonna bother. Had they released the video on a more accessible platform, it goes without saying that the video would have broken many a record. Soz Bey.
FUN FACT: A little promotion goes a long way.
Obviously, a surprise drop in the middle of the night might cause an absolute MELTDOWN online but the report seems to prove that anticipation and teasers will ALWAYS out perform the surprise drops. Rihanna previewed a KILLER trailer before the release of "BBHMM" and there's a reason that Taylor Swift's numbers are so high... it's called PRO-MO-TI-ON.
The music video audience is shifting but it's definitely not dead. Long live the million dollar music video!
via giphy.com