A video of young Taylor Swift fans not knowing how to use a CD goes viral
2 November 2023, 17:21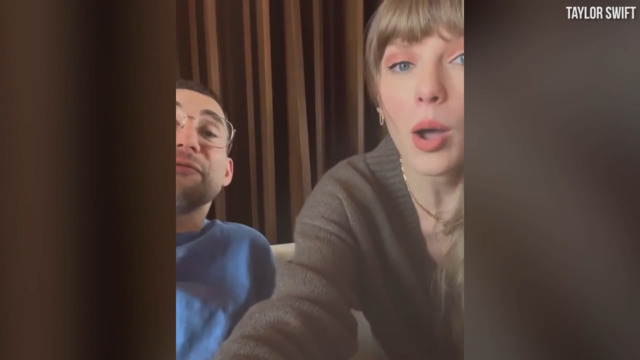 Taylor Swift reacts to Cruel Summer going Number 1
Taylor Swift may sell millions of CDs with every album but some Swifities are only just finding out how to use a CD.
We were both young when Taylor Swift first saw us but this viral Swiftie video makes clear that we aren't so young anymore.
In the streaming era, Taylor Swift is one of the few artists who still sells millions of CDs. When Taylor released her first album in 2006, Spotify had only just been founded and digital downloads were only just becoming popular. Fast forward to today and people rarely play CDs but fans do still buy them as collectibles to support their favourite artists including Taylor.
In 2022, Taylor's 10th album Midnights sold 395,000 CDs in its opening week and Taylor's latest rerecording 1989 (Taylor's Version) dropped with four different CDs for fans to purchase. However, many Gen Alpha Swifties have never used a CD before and a viral video on TikTok shows just how young they really are.
READ MORE: Here's how to use the Taylor Swift song sorter to rank your favourite songs
Last week (Oct 28), Taylor Swift fan account @swiftiebabies13 posted a video of her daughter and her friends not knowing how to use a CD on TikTok and it wasn't long before it went viral. In the video, Shannon, who owns the account, gives the girls a CD of 1989 (Taylor's Version) and it quickly becomes clear that they have no clue how to use it.
In the video, the three girls open the CD case but can't figure out how to get the CD out of the case. One of the girls asks: "Is it a button? Is it a twist?" They get scared that they're going to break the CD and Shannon then demonstrates that to remove the CD, all you need to do is push the plastic centre.
The video has since been viewed over 2.5 million times. Reacting in the comments, one person wrote: "I feel old and I'm only 17." Another wrote: "23 and feeling like a boomer."
Taylor has also liked the video.
If that weren't enough, Shannon has posted another video of the girls attempting to work a CD player and then a video of them responding to all the people who are shocked that they don't know how to use a CD.
In the follow-up video, the girls explain that they're 11 and 12. They also say that they knew what a CD was but that they didn't know how to get it out of the case, adding that when they watch movies and play video games, they don't use discs.
BRB - listening to 'Nothing New' on repeat and feeling ancient.
Madison Beer Explains Every Song On 'Silence Between Songs' | Making The Album